Pizza nights are back!
Danielle of Against All Grain has done it again!
This time she has come up with a grain free pizza crust that claims to be delicious, and to hold up against its gluten and grain-full competitors, unlike some of the other grain free crusts we've tried which don't allow you to pick up and indulge in a little slice of pizza heaven. 
She tops her with some of the delicious and healthy meats from US Wellness Meats, though we left the toppings up to you on this one, so go ahead and indulge in your favorites. Some of ours include goat cheese, spinach, garlic and tomatoes.  Another fave is sauce, ham and pineapple.  And yet another is the meat lovers favorite with proscioutto, sausage, ground beef and jalapeno. 
Truth be told, top it with whatever fresh and delish toppings you want and simply enjoy the ability of savoring pizza again on a grain free diet! 
Paleo, Gluten Free Pizza Crust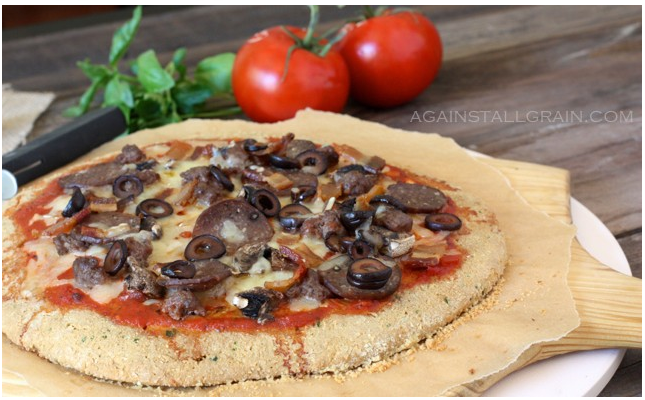 Ingredients
INGREDIENTS - CRUST

3/4 cup whole raw cashews (or 1 cup cashew flour)
3 tablespoons almond flour
1/4 cup coconut flour
1/2 teaspoon baking soda
1/2 teaspoon salt
1/8 teaspoon garlic granules
2 eggs
2 tablespoon almond milk
1/2 teaspoon apple cider vinegar
2 1/2 tablespoons extra-virgin olive oil
1 tablespoon cold water
1 tablespoon fresh parsley
2 tablespoons fresh basil

INGREDIENTS - PIZZA

1/2 cup marinara sauce
3/4 cup US Wellness Meats Raw Mozzarella Cheese, shredded
1/4 USWM Salami, casing removed and thinly sliced
1 USWM Italian Sausage, casing removed and pre-cooked
2 pieces USWM sugar-free bacon, cooked and chopped
1/4 cup mushrooms
1/4 cup black olives, pitted and sliced
Instructions
Preheat oven to 350 degrees.
In a food processor, pulse the cashews until a fine flour has formed.
Add in the almond flour, coconut flour, baking soda, salt, and garlic granules, then process the mixture for 1 minute.
Add the eggs, almond milk, apple cider vinegar, olive oil, and water and process for another minute. Scrape down the sides of the bowl and pulse a few more times until you have a very smooth dough.
Add the parsley and basil, and pulse two more times to roughly chop and incorporate the herbs.
Let the dough rest for 2 minutes to let the coconut flour absorb some of the liquid.
Sprinkle a piece of parchment paper with a little almond flour, then turn the dough out onto the counter. Sprinkle a little more flour on the top of the ball of dough, then place another piece of parchment on top.
Use your hands to flatten the ball into a disc, then lightly roll out the dough into a circle that is 1/4 inch thick.
Remove the top piece of parchment and carefully slide the other piece with the crust onto a pizza pan.
Bake the crust for 12 minutes, or until it has puffed up and is golden brown around the edges.
Top with sauce and your favorite toppings and bake for another 10-15 minutes.
Enjoy!
http://inspiredeats.net/paleo-gluten-free-pizza-crust/