Sometimes I miss the salty crunch of chips, pretzels or crackers, so when the urge kicks in I turn to these guys; roasted, spicy chickpeas. They're a tasty, easy to make treat and I typically have all the ingredients in the pantry. I discovered the recipe on What's Gaby Cooking and I have to admit, I love the warm, spicy, toasty, salty combo! They make a great snack on their own, or as a side dish to your fave main course. 
All you need is 30 minutes, a can of garbanzo beans and some typical household spices. Kick up the heat for those of you with a flair for spicy. Enjoy!
Allergy-free, paleo roasted chickpeas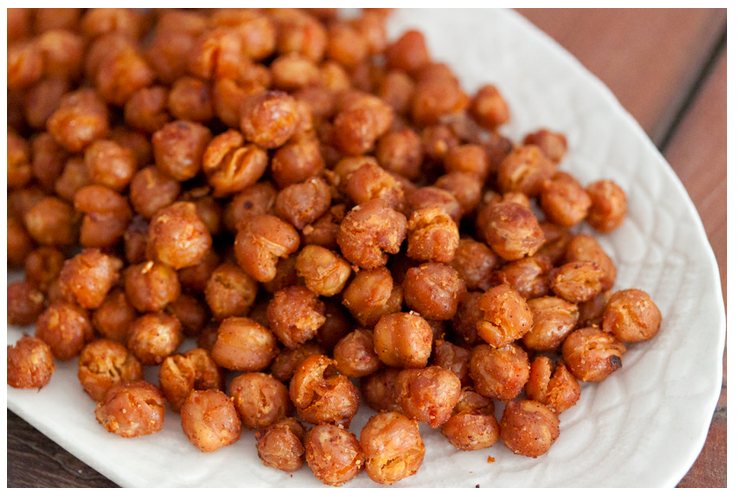 Ingredients
1 15-oz can Garbanzo Beans
1/2 tsp salt
1/2 tsp garlic powder
1/2 tsp red pepper flakes
1/2 tsp paprika
Instructions
Preheat the oven to 400 degree F.
Drain and rinse the garbanzo beans in a large colander. Continue to rinse until all the foamy liquid goes away.
Line the counter with a few sheets of paper towel. Place the drained garbanzo beans on top of the paper towel and let them dry for a few minutes.
Once the beans are dried, place them on a parchment lined baking sheet. Drizzle with olive oil and then sprinkle on the spices. Using your hands, toss the beans around so they are all fully coated.
Place the baking sheet in the oven for 20 minutes and all to roast. After 20 minutes, remove the pan from the oven and give the beans a little shake and then place back into the oven for another 20 minutes.
Season with salt if needed once fully roasted and then serve.
http://inspiredeats.net/allergy-free-paleo-roasted-chickpeas/