Austin's very own NadaMoo! is in the race for VegNews Magazine's Veggie Awards in the Favorite Vegan Ice Cream Category, and since we're big fans of theirs, I wanted to share the news.
If you haven't tried Nadamoo! you need to, and if you have you know they're creamy, not overly sweet and rooted in goodness. They start with luscious, creamy coconut milk, known for its healthy fats and natural sweetness, add agave nectar and tapioca syrup, naturally low on the glycemic index and finally add the last bit of magic, blending in the flavors and ingredients that make NadaMoo! one of a kind.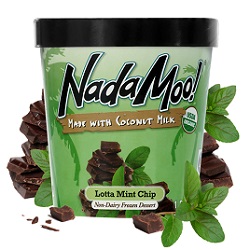 This one's our favorite!
Lotta Mint Chip
Classically craveable. Cool, refreshing organic mint is the perfect complement to packed-to-the-brim chocolate chips.
Ingredients: organic coconut milk, fair trade certified organic agave syrup, organic tapioca syrup solids, organic inulin, fair trade certified organic chocolate chips (organic cane sugar, organic cocoa liquor, organic cocoa butter, organic vanilla) organic mint extract, organic guar gum, organic spirulina powder (for color) sea salt, organic locust bean gum. CONTAINS TREE NUTS (COCONUT).
They would love your support in voting, as well as helping spread the news. NadaMoo! is the only locally-owned brand in the running, and we love to support our local companies whenever possible.
You can link to the survey and vote here – note that NadaMoo!'s under category 9 on the first page and you can get social with them too.
Twitter: twitter.com/NadaMoo
Instagram: Instagram.com/NadaMoo
Facebook: https://www.facebook.com/NadaMooCoconutMilkIceCream