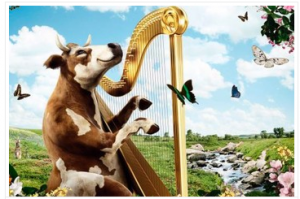 While I will try to keep this list up-to-date, it's possible for me to miss some changes made by the manufacturers, so it's always recommended to check the product label before eating.
My go – to's are almond milk, rice milk, coconut milk and Earth Balance butters. I find Earth Balance to have the most similar taste to butter, and I've grown to love rice and almond milk in my smoothies, shakes, and coffee drinks. My son loves almond milk on his cereal as well!
Here's a more detailed list of brands, thanks to Go Dairy Free, which I suggest for more involved browsing. You can reach them here, but in the meantime I've pulled some of the basics off the site below for quick reference.
Milk Alternatives
Taste of Thai Canned Coconut Milk
Let's Do Organic Coconut Milk
Thai Kitchen Premium Canned Coconut Milk
Thai Kitchen Premium Canned Coconut Milk
Natural Value Canned Coconut Milk
Chaokoh Canned Coconut Milk
Mae Ploy Canned Coconut Milk
Tiana Coconut Milk
Pacific Multi-Grain Non-Dairy Beverage – (aseptic)
Pacific Organic Oat Non-Dairy Beverages – (aseptic)
Almond Breeze – (aseptic)
Pacific Almond Non-Dairy Beverage – (aseptic)
Pacific Hazelnut Non-Dairy Beverage – (aseptic)
RiceSense Enriched RiceMilk – (aseptic)
Lundberg Organic Drink Rice!™ – (aseptic)
Natur-a Organic Rice Beverage – (aseptic)
Pacific Low-Fat Rice Non-Dairy Beverages – (aseptic)
YU Riz – Rice Beverages
Rice Dream Non-Dairy Beverages – (aseptic)
Rice Dream Non-Dairy Beverages – (aseptic)
Rice Dream Non-Dairy Beverages – (aseptic)
Rice Dream Non-Dairy Beverages – (refrigerated)
Westbrae Natural Rice Beverage – (aseptic)
WestSoy Rice Drink – (aseptic)
Manitoba Harvest Hemp Bliss
Living Harvest HempMilk
8th Continent Soymilk – (refrigerated)
Organic Edenblend – Rice & Soy Milk – (aseptic)
Organic Edensoy Soy Milk – (aseptic)
Good Hope Soy – Fruit Juice & Soymilk Blends
SoySense Enriched SoyMilk – (aseptic)
SoySense Enriched SoyMilk – (refrigerated)
Pearl® Organic Soymilk 32 oz. – (aseptic)
Pearl® Organic Soymilk 8.25 oz – (aseptic)
Pearl® Soymilk – (aseptic)
Better Than Milk, Soy Ready-to-Drink – (aseptic)
Natur-a Organic Soy Beverage – (aseptic)
Odwalla Soymilk – (refrigerated)
Organic Valley Family of Farms Soy – (refrigerated)
Pacific Organic Soy – (aseptic)
Pacific Select Soy – (aseptic)
Pacific Ultra Soy – (aseptic)
Wildwood Organic Soymilk – (refrigerated)
So Good Fortified Soy Beverages – (refrigerated)
So Nice Fortified Soy Beverages – (refrigerated)
YU Soy Beverages
Sunrise Soya Beverages – (refrigerated)
Tayo Non-Dairy Beverage / Potato-Soy Milk – (refrigerated)
Soy Dream Non-Dairy Beverages – (aseptic)
Soy Dream Non-Dairy Beverages – (refrigerated)
WestSoy Enriched Soymilk – (aseptic)
WestSoy Lite Soymilk Drink – (aseptic)
WestSoy Low Fat Soymilk Drink – (aseptic)
WestSoy Non Fat Soymilk – (aseptic)
WestSoy Organic Soymilk – (aseptic)
WestSoy Plus Soymilk – (aseptic)
Vitasoy (SAN SUI) Soymilk – (aseptic, Asian Markets)
Vitasoy Classic Soymilk – (aseptic)
Vitasoy Complete Fortified Soymilk – (aseptic)
Vitasoy Light Fortified Soymilk – (aseptic)
Vitasoy Organic (USDA) Soymilk – (aseptic)
Vitasoy Seasonal Soymilk – (aseptic)
Silk® Plus Soymilk – (refrigerated)
Silk® Soymilk – (aseptic)
Silk® Soymilk – (refrigerated)
ZenSoy Soy on the Go Soymilk w/Omega 3 – (aseptic)
ZenSoy Soymilk – (refrigerated)
BestLife Organic Non-GMO Whole Soybean Powder
Sammi's Best™ Soy Milk Powder
DDC SoyMilk
Fat (Not!) Creme It!
Moo (Not!)™
SoyGood Soymilk Powder
Ener-G Soyquik
Fearn Soya Food Soya Powder
Joy Soy Soy Melk Powder
Better Than Milk, Rice Powder
Better Than Milk, Soy Powder
Heaven-on-Earth Milk Replacer
Maggi Coconut Milk Powder
Twin Oaks Organic Soymilk (Bulk)
DariFree Fat-Free Non-Dairy Milk Alternative from Potatoes
SNO*E Tofu Soy Beverage
Yogurt Alternatives
CrèmSo
Wildwood Probiotic SOYogurt
So Nice Dairy-Free Yogurt-Style Cultured Soy
Nancy's Organic Cultured Soy (Yogurt)
Silk®  Soy Yogurt
WholeSoy Soy Yogurt
Butters
Earth & Vine Fruit Butter
Eden Foods Organic Fruit Butters
Garden of Life Coconut Oil
Earth Balance® Buttery Natural Spread
Earth Balance® Natucal All Vegan Buttery Spread
Earth Balance® Natural Buttery Sticks
Earth Balance® Shortening
Organic Earth Balance® Whipped Spread
Smart Balance® 37% Light Buttery Spread
Smart Balance® Organic Buttery Spread
Smart Balance® Shortening & Aerosol Cooking Spray
Soy Garden™ Natural Buttery Spread
Lucky Leaf / Musselman's Apple Butter
R.W. Knudsen Organic Apple Butter
Living Tree Raw Coconut Dream – Organic Coconut Butter
Nutiva Organic Coconut Oil
Omega Nutrition Coconut Oil
Artisana Raw Organic Coconut Butter
Joy Soy Instead O' Spreads
Kozlowski Farms Fruit Butters
Canoleo® Soft Margarine
Spectrum Naturals Spread
Spectrum Organic Coconut Oil
Spectrum Organic Shortening
Tiana Organic Virgin Coconut Oil
Tropical Traditions Organic Coconut Oil
Tropical Traditions Organic Palm Shortening
Cheese Alternatives
Creamy Sheese
Sheese
DDC Cheese (Not!)™ Sauces
DDC Chili Con Queso Dip & Sauce Mix
Dixie Diner Yeast Flakes
Tex-Mex Cheese (Not!) Bean Dip & Sauce Mix
Parma! Vegan Parmesan
Vegan Gourmet Cheese Alternative
Vegan Gourmet Cream Cheese Alternative
Galaxy Nutritional Foods Rice Vegan Singles
Galaxy Nutritional Foods Vegan Blocks
Galaxy Nutritional Foods Vegan Cream Cheese Style Spread
Galaxy Nutritional Foods Vegan Grated Parmesan
Galaxy Nutritional Foods Vegan Singles
Gopal's Rawmesan Parmesan Cheese Replacement
Kathy's Krackers Vegan Macadamia Pine Nut Parmesan Cheeze
Legere's Nutritional Yeast Spread
Lesaffre / Red Star Nutritional Yeast
Roads End Organics Chreese Packets
Roads End Organics Nacho Chreese Dip
Instead O' Spreads
Sunergia Organic Soy Bleu
Sunergia Organic Soy Feta
The Organic Gourmet Savoury Spread – Nutritional Yeast Extract
Tofutti Better Than Cream Cheese®
Parma Zaan Sprinkles
Cream Alternatives
Alpro Soya Dairy Free Alternative to Single Cream (Soya Dream)
Sammi's Best™ Vegan Coffee Creamer
Let's Do Organic Creamed Coconut
Vegan Gourmet Sour Cream Alternative
Galaxy Nutritional Foods Vegan Sour Cream Style Topping
Wildwood Organic Soymilk Creamer
Chaokoh Canned Coconut Cream
Tiana Coconut Cream
Tofutti Better Than Sour Cream®
Tofutti Sour Supreme®
Tropical Traditions Organic Coconut Cream Concentrate
Silk® Soymilk Creamer