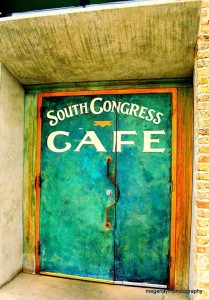 Living Gluten Free in Austin? These guys have you covered!
Home to some of the best restaurants in the country, Austin is a favorite of Meat-eaters and Vegans alike, and we're happy to share our local Gluten-free faves with you. 

Thanks to our friends at Do512 for most of the descriptions and images below, which we've added our own spin to as it relates to their gluten-free friendliness.
 24 Diner  
We love 24 Diner for the fresh, healthy and delicious food, cool vibe and their willingness to accommodate food allergies. While they don't have a separate gluten-free menu, they're happy to point you to foods that are gluten, nut or dairy free friendly. We love the seared salad!
In their words… When you hear the word diner, you probably think greasy spoon. 24 Diner is anything but. Essentially, we took all the elements of the concept we liked — classic American cuisine, good service, fun atmosphere — and turned it up about 10 notches. We offer chef-inspired comfort food, local & organic fare, a full bar and a killer beer & wine list. A finer diner, if you will. And you can stop in anytime. We're open 24 hours a day and located downtown in the heart of Central Austin at 6th and Lamar.

Abel's on the Lake
3825 Lake Austin Blvd, Suite 201 (map) (512) 904-0570 
Hours: Mon – Fri: 11:00 am – 11:00 pm Sat: 11:00 am – 12:00 am Sun: 10:00 am – 11:00 pm
Welcome to Abel's on the Lake, offering spectacular views of Lake Austin. Our fare includes great food, mixed drinks and a selection of 63 draft beers. Abel's has been long established at 24th and Rio Grande and brings the same great atmosphere.
They do have a gluten free menu, though some of the items are  no longer available, and they offer a few staples outside of the standard "bunless burger". Plus you can't go wrong with the lakefront view! 
 Alamo Drafthouse South Lamar
Full food and drinks menu available at all locations, and they are good enough to mark their Gluten Free items clearly on the menu. Get there early and queue up for a fun night.
The best little cinemahouse in Austin – need we say more?
    1120 South Lamar (map) 512-476-1320
 Beets Living Food Cafe  – a Cafe as unique as Austin
 1611 W 5th St. Suite 165 (map) (512) 477-2338
 Offering a complete Raw Foods menu, Beets is a fabulous option for any health conscious Austin foody. Most all of the menu items are naturally gluten-free,    and the staff is super helpful. We love Beets!  Click here to read our review and below for their menu. You'll be happy you did 🙂

 Click here to check out their menu online. 
  Bufalo Bob's Chalupa Wagon
   603 W. Live Oak, Austin, TX. 1 (map) (512) 662-2801
Bufalo Bob's offers range fed all natural Bison, Chicken and Vegetarian Chalupas. We use locally raised all natural chicken and bison certified free of hormones and antibiotics. Our recipes are homemade and we use only extra virgin olive oil and sea salt in our selections. We use organic produce when available. We strive to make great tasting food that is good for your body too! 
 Bobs (and Bob himself) are fabulous! Bob shared with me one night that his wife is gluten-free and also allergic to soy, so they are very aware of allergy restrictions and are definitely willing to accommodate.  This is a MUST TRY!

 Chuy's Barton Springs
1728 Barton Springs Rd (map) (512) 474-4452 
Hours: Mon – Thu: 11:00 am – 10:00 pm Fri – Sat: 11:00 am – 11:00 pm Sun: 11:00 am – 10:00 pm
We wanted to preserve the homey feeling of the way restaurants were in the 50's. That meant creating a menu that reminded us of home. Which is exactly where we looked to find our tasty recipes. They came from friends and family who created them from scratch, or had them handed down from family before them.
  While they don't have a separate gluten-free menu and not a lot of gluten-free items to offer, the staff at Chuy's are always willing to help steer you towards the gluten-free friendly items. Since their salsa is gluten-free, you have several typical Tex Mex options to choose from as well as some salads. Just make sure you steer clear of anything with their green chili salsa as it has flour in it. 



East Side Pies (512) 524-0933
Our gluten-free pizza lovin' friends RAVE about these guys, and it turns out they were right! We finally had a chance to try them out at in.gredients and they definitely didn't disappoint. The crust is thin, crispy and perfectly delish.
Here's what they have to say about themselves:
WHAT IS AN EAST SIDE PIE? A THIN CRISPY CRUST PIZZA, FULLY LOADED WITH GOODNESS.   WHERE DO YOU GET THE VEGETABLES? WE WORK WITH LOCAL FARMERS TO GET THE FRESHEST PRODUCE POSSIBLE.
Good foood – good people – gluten free. Pretty darn awesome! Check them out online here for menus and locations.
El Meson
2038 S Lamar Blvd,   512-442-4441
Why do we love El Meson? It's a little piece of Mexico in the heart of South Austin! Their traditional Interior Mexican Cuisine features a Cochinita Pibil that our son devours and their stuffed Chili Rellenos are not overly fried or breaded, but rather, are full of flavor thanks to perfect pairings including a light brandy cream sauce with a smoked chicken (my favorite!)
Other menu items include traditional fajitas & enchiladas, and all items are served with a small side of beans and rice upon request. The portions are a bit smaller than typical Tex Mex styles, and their margaritas are made to order.
Definitely worth the quick drive from downtown, and when you're done, walk next door to Lick, and top dinner off with some of the best, locally sourced and organic ice cream we've ever tasted.
 Elizabeth Street Cafe
These guys 'get' Vietnamese food, and serve it up in a chic atmosphere offering unique and delicious   drinks that are always fun! Once of our favorite palces to enjoy a patio, be sure to try the iced green tea with a hint of jasmine, and don't skip on the apps – the spring rolls are divine and we love the flank steak. The staff is friendly, helpful and will steer you to the best options for your cravings. The Pho is amazing, and will leave you happy and feeling like a million bucks!
El  Alma
Come for the sunny rooftop deck, stay for the star filled skies. El Alma is one of our favorite places to chill, and offers delicious, closer-to-authentic Mexican foods and their margs pack a nice little punch.  They have plenty of gluten and dairy-free options, and their staff is always knowledgeable and happy to help.
1025 Barton Springs Rd

 Freddie's Place
1703 S 1st St (map) (512) 445-9197 
Hours: Mon – Sun: 11:00 am – 12:00 am
This large, outdoor, creekside  restaurant/bar is in an idyllic  setting, under large, shady oak trees.  Freddies has a, laid-back, South Austin vibe, with tasty burgers and margaritas,  a beautiful setting, live music and friendly staff.
 Freddies's fun, laid back vibe finally includes a gluten-free menu (yay!!) So now you can enjoy a burger with a gluten-free bun, or even a breakfast option of french toast. They also have a delicious seared tuna, pork chops, salads and more. And if you're there on a day that's hotter than 100degrees, their frozen margs are only 100 pennies 🙂 Can't beat that!
 Freebirds
This eclectic burrito joint has exploded in Austin, and is expanding to other parts of the country as well. From their fun, eccentric decor to their straightforward, simple menu, Freebirds gets it right. And if you're looking for gluten and dairy free options, these guys are a great option for you. Most all of their items are safe (save for the obvious stuff) and they've got a handy little guide they can hand you when you walk in. Come for the burritos, salads or bowls, and bring your appetite!
515 S Congress Ave  (512) 462-3512
Galaxy Cafe
You may be familiar with their sister restaurants, Top Notch and Zocalo. If so, then you're accustomed to courteous service, great food and even better prices. Galaxy embraces a Mod aesthetic and has a fun, clean vibe. Grab a copy of their gluten-free menu when you stand in line and place your order at the counter. The staff is always happy to answer any of our questions and guides us to the safest foods. In fact, when I asked about the ingredients of the gluten-free pasta, the manager brought out the packaging to me so I could read the ingredients and make sure it was safe. Love that!
They have 3 locations, and you can check out their menu here.  Check out their site for everything else you need to know here.
The Triangle
4616 Triangle Avenue • Austin, Texas
P:
512-323-9494 •
F:
512-323-9754
West Lynn
1000 West Lynn • Austin, Texas
P: 512-478-3434 • F: 512-478-3436
South Austin
9911 Brodie Lane • Austin, Texas
P: 512-233-6000 • F: 512-233-6004
 Garrido's
360 Nueces St (map) (512) 320-8226 
Hours: Mon: 4:00 pm – 10:00 pm Tue – Thu: 11:00 am – 10:00 pm Fri – Sat: 11:00 am – 11:00 pm Sun: 11:00 am – 9:00 pm
95 % Gluten Free * We believe in a healthier way to enjoy Mexican Food *
Happy Hour ALL DAY on Monday 
"Late Night Happy Hour"
Sunday – Wednesday
Their gluten-free menus are labeled and most all items are gluten-free so rest easy, and and enjoy a more authentic Mexican meal. Yum!
Greenling
While not an actual restuarant, Greenling is a must online destination for those seeking healthy, delicious and gluten free options. Offering a full suite of gluten-free products for sale on their site, as well as several prepared fresh meals that meet gluten-free needs, Greenling is one we felt we had to include to help Austinites (and our guests) discover local gluten-free options. Check out our full review of Greenling here.
 Guero's Taco Bar
1412 South Congress (map) 512.447.7688 
Hours: M-W: 11am-10pm, Th-Fri: 11am-11pm, S-Sun: 8am-11pm
Enjoy handmade corn tortillas, specialty dishes and fresh salsa bar. The caldo de pollo and tacos al pastor are just a few tried-and-true favorites. Start off with a hand-shaken margarita in the cantina, or enjoy an icy cold cerveza while listening to music in the Oak Garden. Just sit back and relax.
Offering a special page on their menu for gluten-free items, Guero's is an awesome Austin joint that accomodates us gluten-free folks! 
 Hopdoddy
1400 S Congress Ave (map) 512.243.7505 
Hours: Mon – Thu: 11:00 am – 10:00 pm Fri – Sat: 11:00 am – 11:00 pm Sun: 11:00 am – 10:00 pm
Handcrafted burgers, beer and a full bar in the heart of SoCo, offering gluten-free buns and salads to satisfy your cravings. 
Huts Hamburgers
We added Huts to the list because they recently started promoting Gluten-free buns outside their 6th street location. In all candor, we haven't yet eaten there, and would definitely caution you to check about cross contamination with their grilled items, as we would with any place that grills bread items (they offer grilled sandwiches such as ruebens). You can check out their menu here.  Let us know how you fare!
HUT'S HAMBURGERS
807 West 6th Street
Austin,Texas 78703
Hut's – 512 472 0693
    Juiceland
With three locations, these organic smoothie-to-go shops are as close as Austin gets to a chain. The menu will overwhelm even the most seasoned superfood drinker, with 34 smoothies and 26 juices, plus juice cocktails, shots and food. Gluten free options include the Double Rainbow Quinoa Salad and a variety of coconut, quinoa, and seaweed salads will round out your sugar buzz. 1625 Barton Springs Rd., 512-480-9501; 2307 Lake Austin Blvd., 512-628-0782; 7329 Burnet Rd., 512-524-1129; juicelandaustin.com
Kerbey Lane Cafe South
2700 S Lamar Blvd. (map) (512) 445-4451
We have five locations, each serving breakfast, lunch, and dinner 24 hours a day. That's 840 hours of Kerbey a week for Austinites to catch up over weekend brunch, devour a post-concert Queso, lunch with coworkers, or get their caffeine fix with our bottomless cups of coffee. We buy from local vendors, mom and pop stores like Antonelli's Cheese Shop, offer our walls to local artists, sponsor Austin events, support several local charities, participate in canned food drives, and sell our pink pancakes each year to support the fight against breast cancer.
 Kerbey Lane is an Austin staple, and is known for their pancakes, and now there's no need to be sad – Kerbey's cakes are now offered  gluten-free! Not only can you order them at either of their locations, but you can take a dry batch home as well.  In addition to their pancakes, Kerbey Lane's gluten-free menu offers a wide range of gluten-free friendly items for breakfast and lunch. 
 
Lamberts Downtown
We call this "fancy BBQ", not just for the good food, but for the beautiful and swanky restaurant and bar/lounge upstairs. Grab a drink upstairs while you wait for your meal because you're sure to wait for a table. In their words: located in the carefully restored Historic Schneider Brothers Building, Lamberts serves up inventive BBQ, modern Texas cooking, and carefully prepared cocktails. We strive to provide a comfortable, casual, & original dining experience and offer lunch, dinner, and Austin's best Sunday brunch.
HOURS:  Lunch: Mon – Fri, 11am – 2:30pm, Dinner: Sun – Wed, 5:30 – 10pm Thurs – Sat, 5:30 – 10:30pm  Brunch: Sat & Sun 11am – 2pm   Bar: 7 days, 11am – Late
 Maudie's South Lamar
1212 S. Lamar (map) 512-440-8088 
Hours: 8:00 am – 10:00 pm Sunday – Thursday 8:00 am – 10:30 pm Friday and Saturday
Yeah, we've won all kinds of awards for our great Tex-Mex food. But, do you know what really matters most to us? Our customers!


On any given day, our customers will be as varied as the city of Austin itself. From hippies and politicos to frat boys and freaks, we feed 'em all. And, many folks are our regulars who have been dining with us, like family, every week for years! It's all about the fresh food, the great value and the friendly atmosphere. That's what keeps them coming back for more!


With six handy Austin locations, chances are, we're just around the corner in your neighborhood.



If you want the true taste of Tex-Mex and an authentic Austin experience (not to mention the best margaritas in town)…come check us out!


 We started as a hole-in-the-wall and there's no way success is going to change us!
Maudie's is one of our favorite neighborhood stops and we can't say enough great things about them! They offer a gluten-free menu as well as separate gluten-free chips, and they will give you a separate salsa to avoid cross contamination from the non- gluten-free chips. They're gluten-free menu is full of delicious options, and I've been told on many occasions that they can alter most any of their items to be gluten-free since their salsas are ok, and they make most things fresh on the spot. They take a little longer with their gluten-free orders because they take care to prep their stations and grills to avoid cross contamination, and I'm super grateful for that! Yep, can't say enough great things about their knowledgeable staff, delicious & healthy mexican fare!
 Manuel's
310 Congress (map) (512) 472-7555 
Hours: Mon – Thu: 11:00 am – 10:00 pm Fri – Sat: 11:00 am – 11:00 pm Sun: 11:00 am – 10:00 pm
Created in Austin and locally owned for more than 25 years, Manuel's is a "must" for quality Mexican food.  Serving non-GMO corn products, Premium All Natural Texas beef,  chicken, pork, and wild caught Tuna, Black Drum, and shrimp. 
Manuel's is an Austin favorite – consistently voted in the top 20 restaurants in town and recognized for best mole, ceviche, enchiladas, tortilla soup, and Happy Hour.
 While they don't offer a separate gluten-free menu, Manuel's staff is more than happy to check with the chef and advise you of the safe gluten-free options. From our experience, there are plenty of choices to be had, and we love their more authentic take on an Austin favorite; Viva Mexican!
 Matt's El Rancho
2613 S Lamar Blvd (map) (512) 462-9333 
Hours: M, W, Th, & Sun: 11am-10pm, Fri & Sat: 11am-11pm
For over 50 years Matt's El Rancho has been 
family owned and operated.
 Since 1952 Matt's El Rancho has provided the Austin area with
 authentic Mexican food in a great family atmosphere.
Matt's is another neighborhood favorite joint that we can't say enough great things about! While they don't offer a separate gluten-free menu, they're quick to send a manager over to your table once you mention gluten-free, and their managers are extremely knowledgeable about how their menu items are prepared and they're always willing to accommodate dietary restrictions, beyond just gluten-free. You can absolutely rest assured that Matt's will take good care of you!

Mr. Natural
Vegetarian, vegan and gluten-free friendly, these guys serve up amazingly fresh & relish foods that are good for us too. They also stock just about any nutritional supplment you might need, and I always find their prices to be pretty competitive. You can't go wrong with the Vegan and Gluten-free pastries, and my son claims their GF donuts are the best he's ever had 🙂
Love their ranchero sauce as a great gluten and dairy free side with fresh tacos or omelet's, and you can't go wrong with their fresh juices. Stop by for lunch or dinner and enjoy their full menu found here.
In a simple, relaxed environment located just 5 minutes from downtown Austin, Mr. Natural is a natural foods restaurant, bakery, juice bar and health food store all rolled into one. Our award-winning vegetarian restaurant offers non-dairy, wheat-free, vegan or vegetarian food using all natural ingredients in unique Mexican vegetarian dishes. Mr. Natural caters, makes it to go, we can even mail it to you. When it comes to Mr. Natural's Bakery, you probably won't find a healthier selection of vegetarian baked goods anywhere. Come check out our selection of natural drinks, meat-substitute entrees, vitamin and mineral supplements and other herbal products in our Health Food Store. Mr. Natural also offers  yoga and meditation classes in our Meditation Room.
2414-A S. Lamar (map) 512-477-5228

PHO Taison
With 6 locations throughout Austin, this family-owned restaurant serves up some of the best Pho in town! And we love their cutesy little play on the word Pho – check out their menu for some 'Phun" play on words 🙂
Just about everything on their menu is gluten and dairy-free and you can't beat their homemade bone broths' healing powers. These guys are healthy, delicious and much cheaper than their more trendy competitors. A must try in Austin! 
 
Piranha Killer Sushi
207 San Jacinto Blvd Ste 202  Austin, TX 78701 (512) 473-8775
Amazingly fresh, delicious and allergy-free friendly options. Note that they offer valet parking for $4 next door so you can avoid dealing with downtown parking for just a couple more bucks than the cost of street parking. 
Read more about why we love these guys on our review here. 
 Rudy's Country Store & BBQ
2451 S. Capital of Texas Hwy (map) 512-329-5554 

Hours: Mon–Thurs 6:00AM-9:30PM Fri-Sat 6:00AM-10:00PM Sun 7:00AM-9:30PM
Rudy's Country Store and Bar-B-Q, home of real Texas BBQ,  family style Barbeque that offers gluten-free barbecue sauce, and all meats are gluten-free. Several of their sides are gluten-free friendly as well, so Rudy's is a safe and tasty option for those frequent Texas Barbecue cravings!
 Shady Grove
1624 Barton Springs Rd. (map) (512) 474-9991 
Hours: Mon – Thu: 11am-10:30pm, Fri-Sat: 11am-11pm, Sun:11am-10:30pm
Our favorite cozy outdoor cafe, Shady Grove is perfect day or night; with plenty of "shade" provided by the abundance of trees, which are adorned with white lights at night, this is a perfectly romantic, casual and fun vibe all in one!
Shady Grove opened its doors to customers in January of 1992. Nestled under the shade of a tall pecan grove just minutes from dowtown, the restaurant fast became an Austin favorite. And as another neighborhood favorite of ours, Shady Grove is a frequent choice in this house since they offer several gluten-free options and are always happy to accommodate further dietary restrictions. While they no longer offer a gluten-free menu, their staff is more than happy to point you to the salads, burgers, pork chops, fish and more that are safe for gluten-free needs. 

 Snap Kitchen
Why do we love Snap? It's the first time I've ever walked into a grab-n-go restaurant that actually labeled every ingredient in its food, and caters to allergy-free friendly eating. Not only is about 90% of their food gluten free, but they also offer Paleo options. Gluten-free, allergy-free, Paleo lovin food that's delicious to boot!
In their words: dedicated to bringing our customers flavorful, handcrafted food that supports our commitment to local, organic ingredients and healthy cooking. Snap Kitchen's menu offers a selection of "foodie" items made fresh daily, salads tossed-to-order (flagship locations), juices and specialty elixirs, high-energy snacks, and diet-friendly desserts for the person on the go.
1014 W. 6th Street Austin, TX 78703    Phone (512) 479-5959      austininfo@snapkitchen.com
 
South Congress Cafe
1600 South Congress Ave (map) 512-447-3905
A perfect place for a date night!
Creative decor blends into the kitschy surroundings of this popular shopping district. Enormous plate-glass windows along the restaurant's front allow natural light in and a view of the bustling street. Although small, the dining area is stylish, with booths lining the perimeter and sleek, wooden-chaired tables. Less of a cafe and more of an upscale eatery, it serves inspired Southwestern fare like a mesquite-grilled filet sauced with a spicy charred poblano demi glaze and adobo chili bearnaise, crab enchiladas finished with a tomatillo-jalapeno cream sauce and Cajun seafood scampi with Creole garlic butter, all in oversized portions.
While they don't offer a dedicated gluten-free menu, South Congress Cafe's staff was more than happy to help steer us to items that are gluten-free friendly, and were happy to accommodate a range of other allergy restrictions. Perfect for a date night, this one is not to be missed!
 TnT Tacos and Tequila
507 Pressler Street (map) 512 436 8226 
Hours: Mon – Thu: 11:00 am – 11:00 pm Fri: 11:00 am – 11:45 pm Sat: 10:00 am – 11:45 pm Sun: 10:00 am – 11:00 pm
Their full tequila bar and delicate bites are sure to please – they keep us comin' back! With delish Mexican style street corn and tacos, and homemade salsas that are too yummy to skip, TNT is a fave for casual, delish and gluten-free options.
Simple, local and handmade is the essence of the TNT food approach. The essence of great food is simplicity not complexity. High quality products quickly grilled and served immediately. Great marinades, glazes, rubs, relishes and salsas. Freshly made by hand. Bright flavors. The sizzle of spice. Add all this to a homemade tortilla and you have the best of Southwestern food.
Part of simplicity is using what's in season. Every attempt is made to source local products. Each month the menu changes to reflect seasonal products from local farms. With local farm fresh foods, they plenty of delish menu items to choose from, their staff is happy to steer you to the gluten-free safe items. No, they don't have a separate menu, but they are happy to oblige. 
Thrice Cafe (formerly Thai Fresh)
909 West Mary St. (map) 512 447 9473
Why do we love Thrice? Fresh steeped loose leaf teas, Kombucha on tap, great selection of beer & wine, and all the Vegan Ice Cream you can imagine! Their menu is almost entirely gluten free, with the exception of their Vietnamese sandwiches  and they're happy to leave out the grains if you request that they do. We love their curries and our son is a fan of their gluten free chicken strips with homemade rice vinegar dipping sauce.
Thrice believes in sustainable thai cooking…
We are a family owned restaurant, cooking school, and Thai market all in one. Thai Fresh is committed to bringing you authentic Thai meals that are made with fresh local ingredients. All of our meats are raised within Texas and free of antibiotics and hormones. We use Buddy's natural chicken and Dewberry Hill Farms chicken. Our pork is from Peach Creek Farm and our beef is all grass-fed from Bastrop Cattle Company. We also use as much local seasonal vegetables as we can. Check out our menu here.
  
Torchy's Tacos 
3005 S. Lamar (map) 512.614.1832 
Hours: M-Th: 7am-10pm, F: 7am-11pm, S: 8am-11pm, Sun: 8am-10pm
"Damn Good Tacos" is not a tagline. It is a warning. Addictions are not cheap.
Breakfast, lunch or dinner – Torchy's is a go to in our house and we love their off the wall, exotic combos!
Who says you need a business plan to start a taco joint? With a head full of ideas and a slight ache from partying all summer, Mike Rypka left his fancy executive chef job to chase his dreams. He soon found them in Austin with a newly acquired food trailer and a red Vespa scooter. A house was mortgaged. Credit cards were maxed out. And Torchy's Tacos opened on South 1st at Bouldin Creek.
Today Torchy's Tacos operate several restaurants in Austin, plus one of our favorite trailer parks (located on South 1st Street).They've won a bunch of cool awards and had write-ups and videos spread across the nation. You can still find that passion in the food at any Torchy's, and none of it would be possible without all the customers, employees, friends and fans that share in the Taco Dream.
And thanks to their willingness to accommodate allergy-free dining needs, Torchy's is a great option for those with gluten-free, dairy free and various other restrictions. Grab their gluten-free menu at the counter before ordering and smile as you sit back to enjoy fresh and tasty tacos, Torchy's style!
 Trudy's
901-C Little Texas Lane (map) 512-326-9899 
Hours: Mon – Thu: 2:00 pm – 2:00 am Fri: 11:00 am – 2:00 am Sat – Sun: 9:00 am – 2:00 am
Home to one of the most iconic drinks in Austin – the Mexican Martini! With a separate gluten-free menu on hand, they offer most tacos (just steer clear of anything with their fajita seasoning) and some salads to GF guests. Queso lovers can rest in knowing it's gluten-free friendly too!
Catch happy hour on your way home from work, enjoy dinner in one of our comfy booths, or just stop by to grab an ice cold draft beer or margarita at the bar. With several locations across Austin, Trudy's is a local favorite and worthy of the praise! Ask your server for a gluten-free menu and they are happy to offer a printout from their corporate office which lists all foods which are gluten-free, which includes their famous chips and salsa, queso, tacos, enchiladas, salads and more. 
 Uchi
801 S. Lamar (map) 1 (512) 916-4808 
Hours: M-Th: 5pm-10pm, F-S: 5pm-11pm, Sun: 5pm-10pm 
Uchi, translated from Japanese meaning "house", is an award-winning restaurant located in a refurbished old home in South Austin. Uchi showcases the culinary talents of executive chef and sushi master Tyson Cole.
What can we say about Uchi, besides it being a world class, fantabulous sushi joint located in our little town! If you watch Top Chef Season 9 than you know Uchi's Executive Chef, Paul Qui  and we promise he won't disappoint! And we can't say enough about Uchi's willingness to satisfy your gluten-free tastebuds without compromising on taste. Stop reading, and head over there now to enjoy one of the best meals you're sure to have had in a long time!

(512) 916-4808 Chef and owner Tyson Cole presents his second restaurant, Uchiko, with offerings fresh from farm and sea inspired by Japanese farmhouse cuisine.
While we can't personally speak to Uchiko, having not eaten there yet, we are told they are equally as accommodating as Uchi for gluten-free needs.  
 
Zocalo Cafe
1110 West Lynn (map) (512) 472-TACO
Casual, fun and delicious – order at the counter and grab a seat on their beautiful patio or inside for a quick, tasty and inexpensive meal. Their staff is super helpful and friendly about diet issues, and their manager told me that almost all of their items are gluten-free with the exception of a couple to stay away from. Be sure to tell them your needs and they're happy to help!
Come experience the bold flavors and colors of a Mexico City taqueria from the comfort of a unique Austin neighborhood. Try our delicious tacos, salads and house specialties. All of our menu items are homemade from the freshest ingredients, including our handmade tortillas and salsas. Check out Zocalo Cafe Taqueria Fresca at 1110 West Lynn.
A big thanks to them for sharing their content! Be sure to head over to their site to browse all the "happenings" in Austin.  

Menus will be added soon, so be sure to check back often!
If you would like to submit restaurant reviews in this city or any other, please email us. Thank you!