Sushi has long been a favorite of both my husband and I; we love it as a go-to on date nights, for a quick lunch, and now that our son is at the age where he can appreciate seafood, we're able to enjoy it even more often. I've loved sushi for many, many years, and it was definitely one of the harder foods I gave up when going grain-free, so I can't tell you how excited I was to find out I could enjoy sushi again, thanks to Austin's local sushi restaurant, Piranha Killer Sushi.
If you're gluten-free, but not avoiding rice, you can rest assured Piranha can take care of you with a boiled rice that's free of any gluten; no soy or vinegars used in their steamed rice and if you tell them you're gluten-free, they'll make the switch for you with no hassles.
And while I have been able to enjoy sashimi without rice, I've missed the experience of picking up a roll, and enjoying the flavor bursts that come from the exciting and unpredictable ingredients in rolls. So when I was at Piranha on my most recent hunt for sushi I could enjoy on a gluten, dairy and grain free diet, I was thrilled to see a roll wrapped in cucumber offered on their menu. They call it their Sashimi Roll and it includes salmon, crab & scallions wrapped with hand peeled cucumber. I swapped avocado for crab since they weren't sure the crab was gluten-free and I have to admit, I was a happy girl again. Once again I was able to enjoy the feeling of picking up a roll with my chopsticks, savoring the magic of a sushi roll.
Here's a pic of my new favorite roll: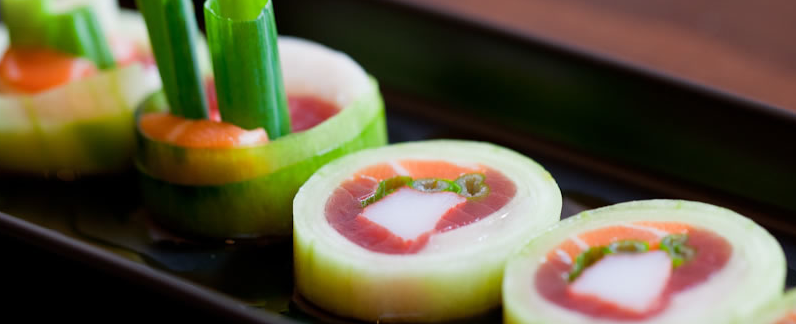 Wrapped in chilled cucumber, the Sashimi Roll has salmon, chives, and crab, though I swapped the crab for avocado which was even tastier in my opinion. They're happy to bring you gluten-free soy sauce on request, and so long as you substitute their gluten-free rice, most all of the rolls without sauces are fine. To be safe, I always avoid crab if its imitation, and since we sit at the bar and watch them prep our rolls, we can see how carefully they handle our food to make sure there's little risk of any cross contamination. Since my husband is not gluten-allergic, they offer to bring him the dipping sauces which typically come on the rolls so he can enjoy it in the more traditional fashion, yet I can still eat it without worry.
So if you're lucky enough to live in Austin, be sure to check out Piranha as they are always willing to accommodate a gluten and dairy free diet, and they have yet to disappoint. If you're not in Austin, perhaps you can ask your local favorite sushi joint to replicate? I'll keep my fingers crossed they say yes!
Oh, and here's another helpful tip – in lieu of soy sauce (read here for all the reasons I discourage soy when you have some time)  – I love Coconut Aminos, and use it in place of soy sauce with recipes, sauces, as a dip, in dressings etc. Honestly, it doesn't have a coconut-y flavor nor is it as salty as Braggs or gluten-free soy sauce, and I carry a bottle with me when we head out for sushi.
A roll wrapped in cucumber, dipped in Coconut Aminos makes me a very happy girl. Thanks Piranha Killer Sushi!