Austin is the live music capital of the world, but it's also home to some of the best cuisine in the country. Whether you're craving finger-licking, melt off the bone Barbecue, Interior Mexican Cuisine, Tex Mex, Vietnamese or fresh Farm-to-table fare, Austin has plenty to choose from.  We've got food carts popping up in the hottest parts of town, and the food is as creative as it is accessible, lending to the unique Austin vibe that makes this the best city to explore.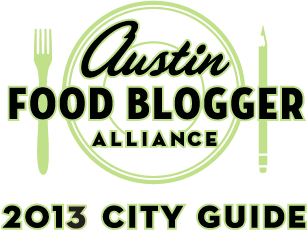 And as signs of Spring are starting to pop up around town, it's a reminder that one of our favorite trade shows is about to be upon us; South by Southwest. SXSW turns Austin on it's head, with some of the best names in music, interactive and film checking out our amazing little town. Every year, the Austin Food Boggers Alliance works in partnership with local food bloggers to produce a SXSW guide to all things 'food' related that Austin has to offer.  Since we're an allergy-free friendly town, and so many of you are probably seeking tasty and safe allergy-free friendly options, we've compiled a list of approved gluten-free friendly Austin jaunts.
So whether you're new to Austin, or an old regular, here are some of our favorite gluten-free friendly joints in the downtown area to get you started.  Most of these are walking distance from the convention center, and we've included contact details for each below so you can double-check before you head on over. And if you're looking for gluten-free friendly restaurants while here, be sure to download the Locate Special Diet app which will give you consumer generated reviews of the best gluten-free friendly joints in town.
Read on for our favorite downtown gluten-free friendly options and look for our post on suggestions in the Travis Heights and South Austin/South Congress area to come.
Downtown Austin Gluten-free Friendly Lunch Options:
 24 Diner  
We love 24 Diner for the fresh, healthy and delicious food, cool vibe and their willingness to accommodate food allergies. While they don't have a separate gluten-free menu, they're happy to point you to foods that are gluten, nut or dairy free friendly. We love the seared salad!
In their words… When you hear the word diner, you probably think greasy spoon. 24 Diner is anything but. Essentially, we took all the elements of the concept we liked — classic American cuisine, good service, fun atmosphere — and turned it up about 10 notches. We offer chef-inspired comfort food, local & organic fare, a full bar and a killer beer & wine list. A finer diner, if you will. And you can stop in anytime. We're open 24 hours a day and located downtown in the heart of Central Austin at 6th and Lamar.
Corner of 6th and Lamar, next to Waterloo Records. 512.472.5400
Garrido's
Situated alongside Shoal Creek, grab a seat on their patio and enjoy a relaxing and inspiring lunch or dinner! Most all of their items are gluten-free and they're happy to accommodate dairy-free needs too, so rest easy, and  enjoy a more authentic Mexican meal in downtown Austin. Oh, and don't pass on their margaritas, which are a tad strong, and not to sweet (just the way we like them!). In their words, 'we are 95 % Gluten Free and believe in a healthier way to enjoy Mexican Food'.
360 Nueces St (map) (512) 320-8226 
 Hours: Mon: 4:00 pm – 10:00 pm Tue – Thu: 11:00 am – 10:00 pm Fri – Sat: 11:00 am – 11:00 pm Sun: 11:00 am – 9:00 pm Happy Hour ALL DAY on Monday 
"Late Night Happy Hour" Sunday – Wednesday
Manuel's
Created in Austin and locally owned for more than 25 years, Manuel's is a "must" for quality Mexican food.  Serving non-GMO corn products, Premium All Natural Texas beef,  chicken, pork, and wild caught Tuna, Black Drum, and shrimp. 
Manuel's is an Austin favorite – consistently voted in the top 20 restaurants in town and recognized for best mole, ceviche, enchiladas, tortilla soup, and Happy Hour.
While they don't offer a separate gluten-free menu, Manuel's staff is more than happy to check with the chef and advise you of the safe gluten-free options. From our experience, there are plenty of choices to be had, and we love their more authentic take on an Austin favorite; Viva Mexican!
310 Congress (map) (512) 472-7555 
Hours: Mon – Thu: 11:00 am – 10:00 pm Fri – Sat: 11:00 am – 11:00 pm Sun: 11:00 am – 10:00 pm
Beets Living Food Cafe  – a Cafe as unique as Austin
Seeking healthy options slightly off the beaten downtown path? Offering a complete Raw Foods menu, Beets is a fabulous option for any health conscious foody. Most all of the menu items are naturally gluten-free,  and the staff is super helpful. We love Beets!
Click here to check out their menu online.   1611 W 5th St. Suite 165 (map) (512) 477-2338
Piranha Killer Sushi
Amazingly fresh, delicious and allergy-free friendly options. Note that they offer valet parking for $4 next door so you can avoid dealing with downtown parking for just a couple more bucks than the cost of street parking.
Read more about why we love these guys on our review here. 
207 San Jacinto Blvd Ste 202  Austin, TX 78701 (512) 473-8775
Lamberts Downtown
We call this "fancy BBQ", not just for the good food, but for the beautiful and swanky restaurant and bar/lounge upstairs. Grab a drink upstairs while you wait for your meal because you're sure to wait for a table. In their words: located in the carefully restored Historic Schneider Brothers Building, Lamberts serves up inventive BBQ, modern Texas cooking, and carefully prepared cocktails. We strive to provide a comfortable, casual, & original dining experience and offer lunch, dinner, and Austin's best Sunday brunch.
HOURS:  Lunch: Mon – Fri, 11am – 2:30pm, Dinner: Sun – Wed, 5:30 – 10pm Thurs – Sat, 5:30 – 10:30pm  Brunch: Sat & Sun 11am – 2pm   Bar: 7 days, 11am – Late
Snap Kitchen
Why do we love Snap? It's the first time I've ever walked into a grab-n-go restaurant that actually labeled every ingredient in its food, and caters to allergy-free friendly eating. Not only is about 90% of their food gluten free, but they also offer Paleo options. Gluten-free, allergy-free, Paleo lovin food that's delicious to boot!
In their words: dedicated to bringing our customers flavorful, handcrafted food that supports our commitment to local, organic ingredients and healthy cooking. Snap Kitchen's menu offers a selection of "foodie" items made fresh daily, salads tossed-to-order (flagship locations), juices and specialty elixirs, high-energy snacks, and diet-friendly desserts for the person on the go.
1014 W. 6th Street Austin, TX 78703    Phone (512) 479-5959
South Congress Cafe
Creative decor blends into the kitschy surroundings of this popular shopping district.  Less of a cafe and more of an upscale eatery, it serves inspired Southwestern fare like a mesquite-grilled filet sauced with a spicy charred poblano demi glaze and adobo chili bearnaise, crab enchiladas finished with a tomatillo-jalapeno cream sauce and Cajun seafood scampi with Creole garlic butter, all in oversized portions.
While they don't offer a dedicated gluten-free menu, South Congress Cafe's staff was more than happy to help steer us to items that are gluten-free friendly, and were happy to accommodate a range of other allergy restrictions.
1600 South Congress Ave (map) 512-447-3905
TnT Tacos and Tequila
Their full tequila bar and delicate bites are sure to please – they keep us comin' back! With Mexican style street corn and tacos, and homemade salsas that are too yummy to skip, TNT is a favorite for casual, delish and gluten-free options.
Simple, local and handmade is the essence of the TNT food approach. Part of simplicity is using what's in season. Every attempt is made to source local products. Each month the menu changes to reflect seasonal products from local farms. With local farm fresh foods, they plenty of great menu items to choose from, and their staff is happy to steer you to the gluten-free safe items. No, they don't have a separate menu, but they are happy to oblige.
507 Pressler Street (map) 512 436 8226 
Hours: Mon – Thu: 11:00 am – 11:00 pm Fri: 11:00 am – 11:45 pm Sat: 10:00 am – 11:45 pm Sun: 10:00 am – 11:00 pm
It's worth mentioning that this is not a complete list of allergy-free friendly joints in the downtown area, but is a great starting point!
We're covering the 78701 and 78704 areas, but if you're looking for more options around town, you can check out these other suggestions, including top breakfast choices, on the ATX gluten-free blog here, and click the logo for the Austin Food Bloggers Alliance to read more Austin foodie reviews.
And remember, if you're looking for gluten-free friendly restaurants while here, be sure to download the Locate Special Diet app which will give you consumer generated reviews of the best gluten-free friendly joints in town. Locate Special Diet helps you navigate the gluten-free scene while visiting Austin (it's available on iPhone, Android, and their website). It's built for the gluten-free people, by local gluten-free people, and we love it!
If you have some favorite spots that we've left off, please mention them in the comments section below, and stay tuned for more Austin Food Alliance foodie reviews to come!