When I started my health journey a few years ago, I discovered kale in large part thanks to my nutritionist. Admittedly, I had never even tried kale, let alone knew why it was such a powerful food.  She explained that I was experiencing oxidative stress, chronic inflammation and various auto-immune conditions that caused my liver to stop functioning properly. Poor liver function lead to an inability to clear my estrogen levels, creating an estrogen-dominant condition which was causing all sorts of health issues.   So she suggested I find ways to enjoy at least one serving of kale daily, which led me to discover kale smoothies, juices and homemade kale chips. 
But before I share one of our favorite kale chip recipes with you, I thought I would cover some of the basics of why kale is such an amazing superfood and perhaps help convince you to enjoy it too!
Kale is an amazing super-green that has been studied in large part for it's antioxidant-related health benefits, including it's role in cancer prevention and/or treatment, as well liver clearance and overall general well being. 
Kale for cancer?
Folks in the alternative health sector have promoted natural cancer preventatives for years, and much focus has been placed on the anti-cancer benefit potential of kale. No, I'm not suggesting kale consumption can replace chemo, however, it's an important component to reducing oxidative stress, which leads to chronic inflammation. Chronic inflammation has many detrimental health effects, including fostering of cancer development and increased cardio/heart stress.
Here's where we get a bit technical… 
Like most of its fellow cruciferous vegetables, kale has been studied more extensively in relationship to cancer than any other health condition. Kale's nutrient richness stands out in three particular areas: (1) antioxidant nutrients, (2) anti-inflammatory nutrients, and (3) anti-cancer nutrients (in the form of glucosinolates). Here's where we get a bit technical: without sufficient intake of antioxidants, our oxygen metabolism can become compromised, and we can experience a metabolic problem called "oxidative stress." Without sufficient intake of anti-inflammatory nutrients, regulation of our inflammatory system can become compromised, and we can experience chronic inflammation. Oxidative stress and chronic inflammation—and the combination of these metabolic problems—are risk factors for development of cancer. Various research studies have been published on 5 specific types of cancer—including bladder cancer, breast cancer, colon cancer, ovarian cancer, and prostate cancer—and intake of cruciferous vegetables (specifically including kale). As a group, these studies definitely show cancer preventive benefits from kale intake, and in some cases, treatment benefits as well.
Another amazing benefit of kale? The omega-3s in kale are an important part of kale's anti-inflammatory benefits; it only takes 100 calories of kale to provide us with 25-35% of the National Academy of Sciences' public health recommendation for the most basic omega-3 fatty acid.
And lastly (at least for this post!) kale has been shown to help aid in both digestion and clearing of the liver, making it an important component to many detox protocols.
Back to the fun stuff!
Want to know how to eat a whole head of kale in one sitting (and enjoy it?) Here's a quick recipe for homemade Kale Chips that take less than 20 minutes to make and are always a big hit with both adults and kids!  I use these as an alternative to potato and corn chips, and keep them on hand for those moments when you crave something a little salty. They travel well, so feel free to make extra and pack them in a ziplock for your trips out anytime you'll want to dip; salsa, cream dips and hummus all work well with kale chips!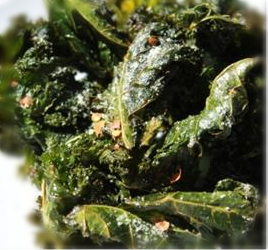 Ingredients
1 bunch Kale
1 Tbsp Olive oil or Coconut Oil
Salt
Pepper
Chili Flakes
Instructions
Wash and dry kale leaves.
Cut out center stem from each leaf and discard.
Tear into pieces and put in a bowl.
Toss with seasonings and olive or coconut oil then spread on a greased baking sheet.
Bake at 350°F for 7 minutes, remove from oven and toss.
Then continue baking for 10 minutes or until leaves are crisp.
http://inspiredeats.net/kale-chips/