I love brunch; gathering family and friends together over a mixture of sparkly beverages, fresh roasted coffee, and a variety of foods that appeal to breakfast and lunch lovers alike is a perfect way to spend a lazy weekend morning. And while one of the more popular drinks of choice for brunch enthusiasts is the mimosa, those of us electing to avoid alcohol (or for whom champagne creates headaches) will be happy to enjoy the same bubbly, fizzy deliciousness of this drink, while avoiding the alcohol. 
Now if only we can come up with a non-alcoholic, dairy free version of baileys and coffee. A girl can dream… 
Non Alcoholic, OJ Spritzer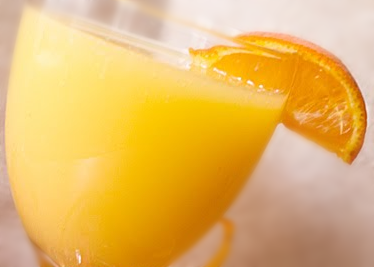 Serve this immediately to enjoy the fizziness.This spritzer can be made with any of your favorite juice or combination of juices.
Ingredients
100 % Orange juice - recommend fresh squeezed or not from concentrate
Sparkling (carbonated) water
1 orange, for decoration
ice cubes
Instructions
Slice the orange thinly or cut it into wedges
In a pitcher, mix equal parts orange juice and sparkling water
Add ice cubes
Serve with a slice or wedge of orange.
Enjoy!
http://inspiredeats.net/non-alcoholic-orange-spritzers-are-a-great-alternative-for-brunch/