I love Sunday brunch; something about getting together with friends and family over a delicious breakfast filled with more exotic breakfast items than the standard egg dish is so appealing to me.  I love the excitement of tasting dishes that are not something I eat most mornings, and the old me especially loved french toast with maple cured bacon and fresh fruit.
While I haven't had bread in ages, I have to admit that I occasionally miss it. I used to love my husband's french toast; he has a way with egg-soaked, sweetened bread that just makes me happy 🙂 So when I ran across this recipe for a gluten free Spiced Banana French Toast on Goodbye Gluten's site, I adapted their recipe to mirror our french toast and updated it a bit to be in-line with allergy-free diet. If you're avoiding alcohol, try pairing it with this fun and tasty non-alcoholic Orange Spritzer for a twist on the mimosa.
While I can't speak to the quality of their products, I always liked our gluten free french toast with a light white bread, and often use Udi's or Canyon Bakehouse.  And while I no longer enjoy french toast myself, I'm happy that my son can experience it occasionally. Because of the glycemic effect of this recipe it's not something I suggest you have often. Save it for a rare occasion and truly savor it, and be sure to follow it up with a protein packed dinner to balance it out.
Remember folks – life is all about balance, whether it's allergy-free living, or life in general.  So go ahead and enjoy this delish dish, but add some protein for a dietary balance (think bacon or sausage) that will help keep you happy & satisfied while your glucose levels will enjoy a small but balanced spike.
Spiced Banana French Toast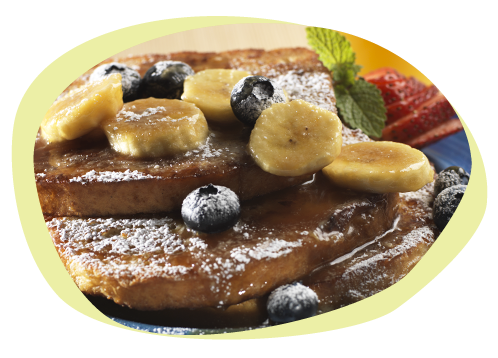 Ingredients
8 slices gluten-free white bread
1/3 c. packed light brown sugar
3 tbsp. unsalted butter
2 tbsp. agave syrup
1 tsp. coconut oil
1 c. sliced bananas
2 lg. eggs
1 1/4 c. almond, hemp, coconut or rice milk
1 tsp. vanilla extract
1/4 tsp. allspice
1/8 tsp. sea salt
Confectioner's sugar
Instructions
In a small saucepan, melt brown sugar, butter, agave syrup and oil over medium heat, stirring until it reaches a light boil.
Reduce heat to low; stir in banana slices.
Remove from heat; cover and keep warm.
In a large bowl, beat eggs; blend in milk, vanilla , allspice, and sea salt.
Soak each slice of gluten-free bread in egg mixture for 30 seconds per side and rest on plate (repeat if necessary).
Spray a skillet or griddle pan with canola spray and pre-heat on medium.
Cook each slice 3-4 minutes per side or until toast is lightly browned.
Spoon banana sauce over French toast as desired and serve immediately.
Sprinkle with confectioner's sugar, if desired.
Variation: Add 1/2 c. blueberries to sauce with banana
Notes
Adapted from http://www.goodbyeglutenbakeries.com/french_toast.php
http://inspiredeats.net/gluten-free-spiced-banana-french-toast/