Last night while browsing some of my favorite Facebook pages, I ran across this recipe on Primal Fitness Performance's page; another version of the quick and simple, grain-less lunch option for our kid's lunch boxes. I love the simplicity of the recipe, and it reminds me a bit of the sushi roll I posted about recently! The salt of the cucumber pairs well with the creamy avocado, and while the original recipe calls for shaved turkey, you can also substitute shaved chicken, or beef.
Keeping it vegan? Go with humus and sliced bell peppers, or perhaps some puree'd beans and sprouts.
In case you missed our last post on how to keep your child's lunchbox grain-free, you can view it here and see how we suggest using sliced apples in place of bread.
There are so many smart options for going grain free these days, taking gluten-free to a new level. Remember, gluten allergies often go hand in hand with other grain sensitivities so if you're trying a grain free diet to help heal your gut, this is a great option that lets you still pick up your 'sandwich'.
Please share your ideas for grainless sandwiches with us in the comments below, and remember to always live inspired!
Paleo Turkey Avocado Cucumber Rolls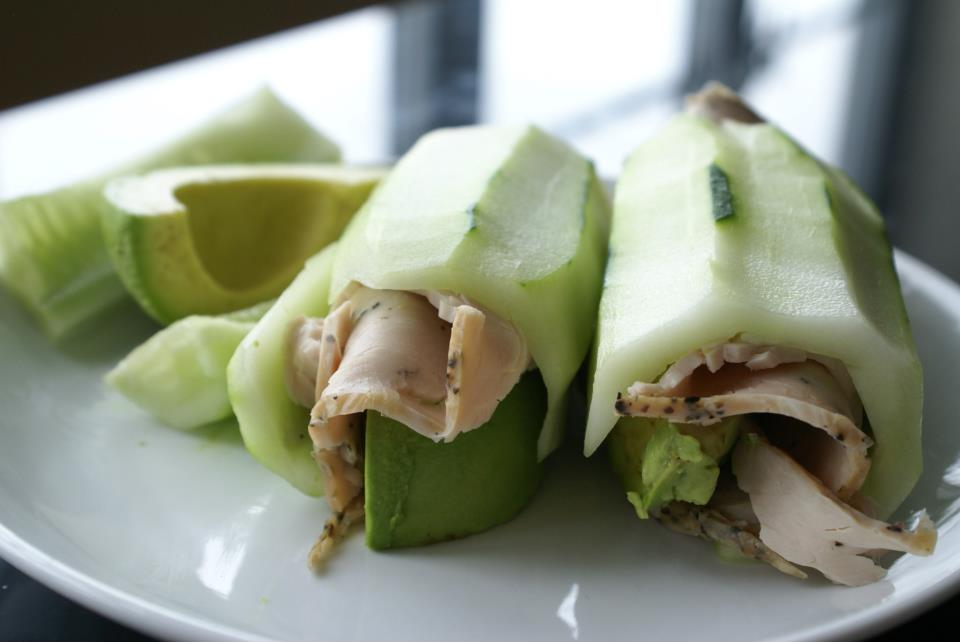 Ingredients
2 cucumbers
8oz sliced turkey breast
2 ripe avocado
Instructions
First, peel your cucumbers - you can leave a tiny bit of skin on for the added texture if preferred.
Cut the cucumber in half (not lengthwise!).
Next, with a sharp paring knife, make an initial indentation lengthwise and start cutting the core of the cucumber out, creating a hollow log shape out of the cucumber.
Next, core and slice your avocado in quarters.
Layer the turkey in the cucumber and place the avocado in the turkey.
Voila! You have yourself a fresh, paleo snack that's refreshing and delicious!
Feel free to add some basil or other herbs to add more flavors.
Notes
Serves 2 Shared from Primal Fitness Performance
http://inspiredeats.net/keeping-your-childs-lunch-box-grain-free-with-cucumber-sandwich-rolls/