When you first walk into their modern, sleek dining area you're greeted by  one of the friendly staff at Beets, who waves their arms at the tables and invite you to pick your favorite spot.  Armed with a cold bottle of purified water and some glasses, she'll drop off crisp fresh water and a menu that at first glance, might have you a bit nervous. After asking if you've ever been here before, she'll mention that they're fully raw, vegan and gluten-free and suggest you take some time to browse the menu, and let her know if you have any questions. And yes, you'll likely have some questions.
If you're new to a raw foods bar, the concept of raw, fresh foods can make you feel a bit nervous and leave you a little unsure whether you'll actually feel full. Since the typical American diet tends to lean towards carbs and meat-based proteins, one look at the menu at Beets might have you thinking you'll need a double dose to feel satisfied. And while I understand why you might think so, the truth is that Beets menu is packed with hearty meals that satisfy your cravings, and keep your belly full with wholesome goodness. The fiber-rich meals will help keep you satisfied, and their juices are a perfect complement to any meal. We love Sylvia's Favorite, a blend of Coconut water, bananas and cranberries that pairs perfectly with any dish. Or if you're craving something a little more dessert-like, grab a Choco A La Na Na featuring almond milk, raw cocao, dates, bananas and spices that brings out the inner child in you.
Some of my favorite dishes are the ELT, Beets' take on the BLT features a delicious sprouted almond sunflower flatbread, spread with a creamy cashew dijonaise, layered with crispy spiced eggplant "bacon", lettuce, tomato, avocado, and high-vibe sprouts, served with crispy veggie chips and kraut. Another favorite is the Raw Rueben, made with sunflower flatbread layered with 1000 island dressing, kraut, marinated portabella mushrooms, caramelized onions, and Swiss cashew cheeze.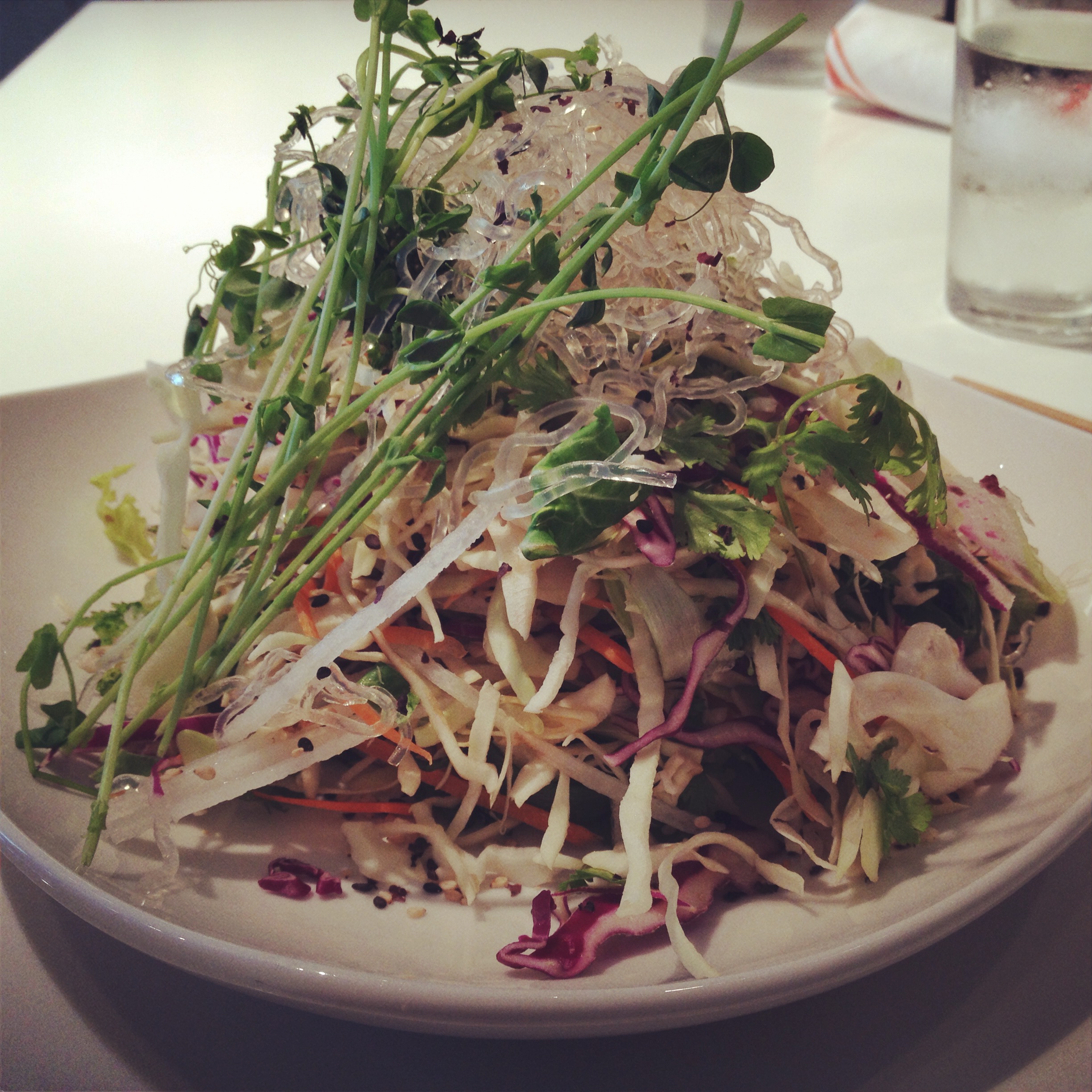 Today, I chose the Asian Style Noodle Salad, made with napa, red and green cabbages, kelp noodles, sea vegetables, daikon radish, bok choy, broccoli, carrot, scallions, cilantro, tossed with Sweet n' Spicy Miso Dressing, garnished with gomasio. Yum!
As I was finishing up my lunch, I overheard a guest who had just sat down ask if they serve diet coke. No, the waitress answered nicely, but we have Coconut Water, Herbal Tea and fresh juices.  The guest said she'll stick with water and turned back to the menu after giving her husband a look that I know all too well. She was clearly skeptical about whether Beets was the right choice for them.  I might expect this type of guest to approach eating at Beets, without embracing the true meaning behind their concept, to be lost on the reasoning behind shunning an overly processed, toxic-rich soda. Would she embrace the raw, cold-pressed juices and delicious soups, or would she be dissapointed in the options?  After she spent some time browsing the menu, they finally placed their order. Though I couldn't hear what they ordered, I'm curious to see how they react to their meals, so I decide to wait a moment to watch as their meals arrive. Do they love the fresh flavor profiles, and the imaginative display? Will they love the rich, exploding flavor bursts form raw foods as much as I do?
I watch, interested, as the get their lunch, waiting to see the expression on her face as she takes her first bite, then another.  She looks at her husband, and smiles. He nods, and they both take another bite. Yep, it seems Beets has two more happy, satisfied customers.
And just as I thought about the power of raw foods to help us heal, and how Beets is helping people to transform their thinking on the benefits of eating raw, I noticed the gentleman sitting next to me. He was dressed in a suit, and I overheard him tell the waitress he was visiting Austin from Houston.  After I heard him comment about how good the soup was I struck up a conversation with him; I was curious what this well-dressed businessman in from Houston thought of our little raw foods bar. To my delight he was amazed at how much he loved the raw Carrot, Ginger, Curry Soup, and was happy to ask me about the history of Beets. Did I know what the motivation was for opening it was?  How long they were open? Was there any real competition in Austin for them?
As I shared what I know of their history, from reading the literature on their tables, he smiles, looks around and comments that he would love to have a Beets in Houston.
You can check out their menu and read more about the story behind Beets on their website, and be sure to check with them for cooking class schedules and special holiday menus.