If you're in the Austin area and looking for something indoors to help beat the heat, and you happen to be into food, then this just may be for you! One of our favorite grocery stores, Central Market wants to help you kick off summer with food, spirits and fun this June at their 'Central Market's Cooking School'. June classes include seafood, brunch and Beat Divas' 10th anniversary where you can learn from Central Market foodies, chefs and culinary professionals from around the world.
Here's the June lineup: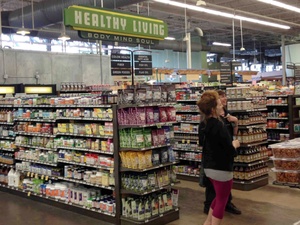 Texas Parks & Wildlife: Oysters & Shrimp (18 and up)
Tuesday, June 10 at 6:30 p.m.
Spend an evening learning to cook with some of the best our great state has to offer. Discover the importance of prep work and then gather 'round in CM's Cooking School kitchen to prepare:
Cornmeal-Fried oyster lettuce wraps
Empanadas de Cameron (hand-pies stuffed with shrimp)
Port Arthur seafood gumbo
Speedy shrimp with tomatoes, feta cheese and basil
Beat Divas: Celebrating 10 Years of Divalicious! (18 and up)
Saturday, June 21 at 6:30 p.m.
Enjoy this special 10th anniversary edition of CM's longest running cookin' and singin' class with the lovely and talented Beat Divas—Dianne Donovan, Mady Kaye and Beth Ullman.
WHERE:           Central Market Cooking School, 4001 N. Lamar Blvd., Austin, TX 78756 
About Central Market:
Central Market's open, serpentine-flow, full view European-style layout offers a completely new food shopping experience. A bountiful produce department with unmatched quality and variety, an 80-foot seafood case with selections from throughout the world, hundreds of cheeses, 2,500 wine labels, stupendous specialty grocery aisles with delights from every continent, and a world class cooking school featuring hands-on instruction are among the features that make the Central Market experience unique.