A local favorite of ours is Nada Moo!, a gluten-free, vegan ice cream option made of coconut milk. They focus on all natural ingredients and since they're sweetened with agave nectar, NadaMoo! has roughly half the fat and calories of ice cream and other dairy-free alternatives.
If you're lucky enough to live in the area, you can grab a pint at any of the local markets listed here.  And are they for real with their newest flavors, Vanilla Cha-Cha-Chai and Bananas for PB & Chocolate.  Yes please!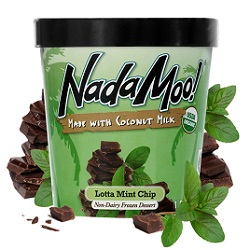 Austin, TX (March 24, 2014) – As the weather heats up, NadaMoo! is cooling down by adding two new flavors to their ever-expanding product line. With the addition of Vanilla Cha-Cha-Chai and Bananas for PB & Chocolate to their gluten and dairy-free coconut milk ice cream family, NadaMoo! now has ten flavors on the shelves at Whole Foods Markets across the southwest.
"Vanilla Cha-Cha-Chai and Bananas for PB & Chocolate showcase two of our fan-favorites, vanilla and chocolate, with flavor combinations that make them uniquely NadaMoo!," says Daniel Nicholson, CEO. "We look forward to what the public thinks and can't wait to continue expanding with more flavors and locations."
Erin Echternach, pastry chef and flavor developer for NadaMoo!, has been working with Nicholson over the past year to create these two distinctive new flavors that remain gluten- and dairy-free, vegan and kosher. Reminiscent of the favorite coffee shop indulgence, Vanilla Cha-Cha-Chai introduces a slightly spicy chai flavor that is balanced with the creamy vanilla coconut milk base. The Fair Trade Certified Bananas for PB & Chocolate is a perfect blend of their signature rich chocolate sprinkled with banana and peanut bites.
"The secret is to find flavors that complement the coconut base," says Echternach. "From there we can create any number of combinations, and we aren't afraid to experiment, so expect more exciting new combinations from NadaMoo! in the future!"
NadaMoo!'s other signature flavors include Java Crunch, Lotta Mint Chip, Creamy Coconut, Gotta Do Chocolate, mmm…Maple Pecan, Vanilla…ahh, Sweet Cherry Lime and Chocolate Almond Chip.
About NadaMoo!:
NadaMoo! is a dairy-free, zero cholesterol, gluten-free, lower calorie and lower carb coconut milk ice cream. Established in Austin, Texas in 2004, NadaMoo! was founded with a mission to make the world happier and healthier, one scoop at a time. Since NadaMoo! is made with the cream of the coconut, each pint retains the same saturated-fat mouth-feel of ice cream while remaining dairy- and gluten-free. Sweetened with agave nectar, NadaMoo! has roughly half the fat and calories of not only ice cream, but also similar dairy-free alternatives. The company makes its products in Texas and is dedicated to using organic, kosher, Fair Trade Certified and gluten-free ingredients whenever possible in support of a fair, sustainable and contaminant-free food chain. Since taking the reins in 2011, CEO Daniel Nicholson has led the family-owned company's expansion into new territories and points of distribution across the nation without forgetting his Texas roots. NadaMoo! is available in natural, conventional, specialty and co-op grocery stores nationwide.