Billed as a formal evening to benefit the The Sustainable Food Center this Red Carpet event was planned by The Next Fest to the finest of details, including tasty bites, exotic drinks and a fire- breathing bartender.  Hosted by the Olde Pecan Street Cafe, this glamorous red carpet event was filled with guests adorned in a range of black tie attire to costumes worthy of the Dia De Los Muertos theme.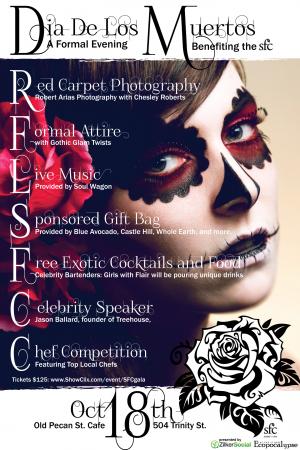 Guests were treated to exotic face painting thanks to guest artist Guillermo Garza, while the ever-present staff of Olde Pecan Street Cafe cruised through the party, offering guests delightful bites such as puffed pastries and crepes. Soul Wagon rocked the house with a blues and jazz themed mix of original songs that were a perfect blend for the event.
While guests enjoyed a variety of exotic cocktails, including some blue and green themed vodka drinks courtesy of Austin's own Tito's Vodka, Celebrity Chef's hosted a cook-off, Top Chef style, and Jason Ballard, co-founder of Treehouse, gave a brief overview of their company: "Think of Treehouse as WholeFoods meets Home Depot." It was a pleasure learning about Treehouse and their mission to build a company based on the idea that people, communities, nature, excellence and dreams all matter.
The Pecan Street Cafe's side room was transformed to allow Soul Wagon to entertain us, while local foodies gave us tastes of their amazing foods.  Guests sampled foods from Brats N Beer and Chef Ryan Abitz, Hot Soup Love, Nada Moo, Kind Bars, Llama's and Pecan Street Cafe, and I was pleased to see most vendors offering allergy-free friendly options, allowing me to sample most of the foods provided.
A Silent Auction was held in the courtyard, and included goodies from Alamo Draft House, Zipcar, Deep Eddy Vodka, Mauro Pilates, Birds Barbershop, Antonelli's Cheese, Second Bar + Kitchen, SEO Consulting by Happiness Digital, Invention Consulting by Long Tail Products, Creative Writing Workshop, Castle Hill Fitness membership, Nutrition consulting by Kate Brodsky, Lobster Rolls for 5 from Pamela Jane's New England Lobster Rolls and private cooking class by Chef Ryan Abitz.
And while guests strolled the Silent Auction tables, and were treated to a fire-breathing show in the coutryard, Austin's Celebrity Chefs prepared for their SFC cook off which took place in the main dining room. I loved watching the Chefs prepare amazing dishes including local foods, and while I wasn't able to hear who the winner was, I'm sure the judges were more than pleased with the submissions. How could they not be given the incredible panel of Celebrity Chefs which included Alberto Carreño, Matt Zepeda, Zach Herrera and Heavy, all local Austin talents.
As for the beneficiary of the evening, The Sustainable Food Center believes that we should all have access to affordable, healthy food, regardless of where we live or how much money we have. SFC cultivates a healthy community by strengthening the local food system and improving access to nutritious, affordable food. SFC envisions a food secure community where all children and adults grow, share and prepare healthy, local food.
Pretty amazing philosophy, right?
Not only do I love what they stand for, but I loved their incredible team as well! I had the pleasure of chatting with them throughout the night, and was impressed with how warm and welcoming they were to me and my humble little blog. Thanks ladies!
Here's a quick recap of what the SFC is about, and more details on how you can help them.
Sustainable Foodies is the premier group of champions for the cause of sustainable food in Central Texas. By providing support for SFC through sharing of time, talent and resources, Foodies act as an awareness and fundraising arm for SFC. Foodies are actively engaged in Austin and enjoy bringing new people into the life of SFC, helping those in underserved communities and spreading the fun of local, seasonal food!
If you're an Austin foodie, or just want to learn more about how you can help spread the work about healthy and sustainable food practices for our amazing community, check out their upcoming events here, and learn more about what a low-cost membership provides you and the SFC. From workshops on developing community gardens at our schools, to Farm to Table Harvest Dinners benefiting the SFC, there are plenty of opportunities to get involved.
Read more about the SFC and their incredible cause here. It was truly a pleasure to have attended the Gala and met the wonderful team at SFC, and I highly encourage you to check out their site to learn more about how you can help them bring affordable, healthy and sustainable foods to our community.