Jon Favreau delights in a sweet, funny and inspiring new movie, Chef, which feels like an expensively made independant flick that perfectly skirts the line between being too Indie and too Hollywood.
Carl Casper (Favreau) is a successful master chef in a trendy Los Angeles restaurant who has lost the ability to explore his true passion for creating exotic cuisine in exchange for pleasing the establishment's demanding owner (Dustin Hoffman). The movie opens with Casper excitedly preparing an exotic farm to table meal to be reviewed by a renowned food blogger, (Oliver Platt). Hoffman's character kills the menu and demand Casper stick with the standard menu they always serve. As expected, Platt pans Casper's menu as too safe and predictable — and snidely suggests Casper may be overweight because he's eaten too many dinners returned by unsatisfied customers. This is where the hilarity ensues. Casper discovers Twitter and furiously tweets an exchange with Platt ending in an invitation to the critic to return for a taste of Casper's preferred menu.
Unfortunately, the owner overrules Casper and insists that he chef prepare the same old menu. Even more unfortunately, a video of Casper's angry confrontation with the critic goes viral — and the chef quickly finds himself not just unemployed, but virtually unemployable.  Casper's well-to-do ex-wife, Inez (Sofia Vergara), invites Casper to join her on a trip back home to Miami, where Casper rediscovers his culinary art.
Joined by their adorable 11-year-old son (Emjay Anthony), and his sous chef (John Leguizamo), Casper reinvents an abandoned food truck and begins his journey across country from Miami back to LA. Stopping in New Orleans and Austin along the way, Chef features some of our favorite local spots including Cafe Du Monde in New Orleans and Guerro's in Austin.
Along the way he develops a beautiful bond with his son and discovers his true passion for bringing delicious, inventive food created with love. So check out Chef, but be prepared to leave with a serious craving for a Cuban sandwich!
Chef opens in theaters May 23rd.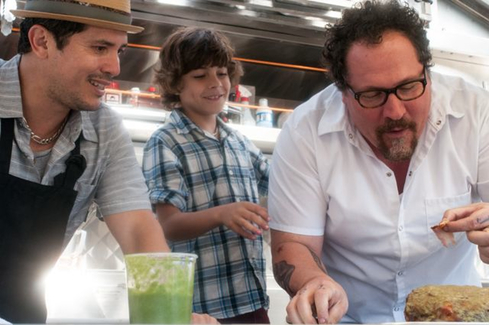 Chef social feeds: FACEBOOK + TWITTER
CAST: Jon Favreau, Sofia Vergara, John Leguizamo, Bobby Cannavale, Dustin Hoffman, Oliver Platt, Emjay Anthony, Scarlett Johansson, Robert Downey, Jr.
RUNNING TIME: 115 min
WRITER/DIRECTOR: Jon Favreau
PRODUCERS: Jon Favreau, Sergei Bespalov
SYNOPSIS: When Chef Carl Casper (Jon Favreau) suddenly quits his job at a prominent Los Angeles restaurant after refusing to compromise his creative integrity for its controlling owner (Dustin Hoffman), he is left to figure out what's next. Finding himself in Miami, he teams up with his ex-wife (Sofia Vergara), his friend (John Leguizamo) and his son to launch a food truck. Taking to the road, Chef Carl goes back to his roots to reignite his passion for the kitchen — and zest for life and love.