Sweet, salty, creamy and crunchy. Too good to pass up!
I've mentioned how much I like this site, Against All Grain, in the past so today I'm showcasing another of her fab recipes which is perfect for summer! As someone who eats a lot of salads, I can tell you I'm excited to give this one a shot.  The idea of combining the sweet and gritty texture of watermelon with arugula and goat cheese is just too tasty to imagine. So while I head out to the store to grab some watermelon, I wanted to throw this recipe up so you can enjoy it in the meantime. 
watermelon salad with arugula, goat cheese & candied walnuts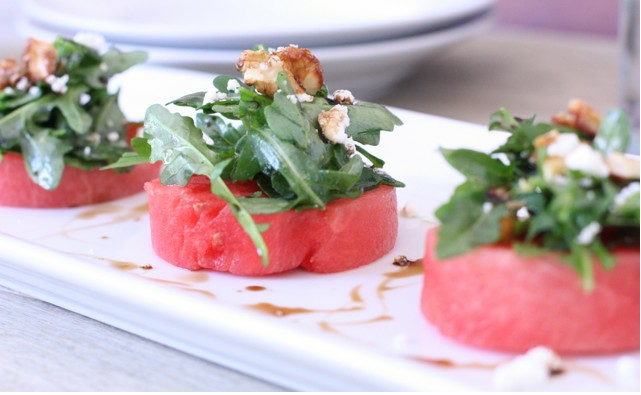 Ingredients
6 pieces of watermelon, cut to 1 inch thickness
2 cups baby arugula
2 tablespoons fresh mint, chopped
2 teaspoons extra virgin olive oil
1 teaspoon fresh lemon juice
pinch of salt and pepper
1/4 cup crumbled goat cheese (omit Goat Cheese or sub in Vegan cheese for vegan options)
1 teaspoon balsamic vinegar
1/2 cup Spiced Candied Walnuts, roughly chopped
Instructions
Using a large biscuit cutter, or just great circle cutting knife skills!, cut the watermelon slices into round circles. Use a knife to trim off any parts that make the circle uneven so it sits flat on a plate.
In a medium bowl, toss the arugula with the mint, olive oil, lemon juice, salt, and pepper.
Arrange the watermelon circles on a plate, then top each with a small handful of the arugula mixture (roughly 1/3 cup each).
Sprinkle each salad with goat cheese and the chopped walnuts, then drizzle the balsamic vinegar over the tops.
Enjoy!
Notes
* If you're serving to a larger crowd, or don't want to take the time to cut the watermelon into rounds, you can use a melon baller to create cute balls or just simply cut the watermelon into chunks and pile it all into a salad bowl.
http://inspiredeats.net/watermelon-salad-with-arugula-goat-cheese-candied-walnuts/