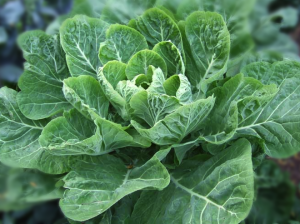 Something we all know we should do more of, but most of us avoid due to flavor and convenience, is adding more greens into our diet. Packed with nutrients, and relatively low in calories, greens are a great source of vitamins and minerals that we are often lacking due to diets higher in starchy carbs. Foods like refined grains and oils, sweets and processed foods usually have little or no nutrients and a relatively higher amount of calories, so adding greens to your diet will help to avoid overeating those nutrient-lacking food groups. Instead, you can focus on the more nutrient-dense leafy greens packed with powerful antioxidants.
Sounds great right, but how are you supposed to do it? That's what my husband says when I get on his case for not eating enough greens, and he tries to convince me that onions are a veggie. No, honey, they don't count.
So, since I have first-hand experience with 2 veggie 'avoiders', I put together a quick list to help sneak them in, and thought I would share it with you too!
10 Quick tips for eating more GREENS:  
Collards: steam and use like tortillas for wraps
Kale: saute with garlic, onions and a bit of broth or water
Watercress: add to sandwiches for a mild, peppery taste
Bok Choy: steam with garlic, ginger and a splash of coconut aminos or rice vinegar (you can buy coconut aminos below!)
Spinach: blend into a smoothie for a nutritional boost
Broccoli Rabe: saute and stir into cooked whole grain rice or gluten free pasta
Napa Cabbage: shred into slaws and salads
Brussels Sprouts: cut in half and pan roast
Swiss Chard: slice thinly and stir into soups
Arugula: add a little or a lot to spice up salads
And there you have it; 10 quick tips for adding more greens to your diet. No more excuses, so print this, live it and love it 🙂