September brings a touch of Fall with football, cooler temps and  (around here) our first sweepstakes! 
I've chosen to launch with Red's All Natural Burritos, a frozen burrito available in many grocery stores, and with an All Natural approach to life, these guys are packed with hormone-free ingredients that are not only good, but good for us too. 
rBGH free cheese? Check.  GMO free? Check. Hormone and Antibiotic free? Check. 
Contest starts September 10th and runs through September 30, 2012. So go ahead and follow the instructions below to enter. Good luck!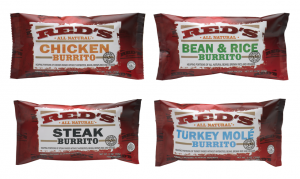 Promotion Details
Red's All Natural will sponsor a giveaway of 1 Case (10 burritos) of Red's All Natural Burritos (the winner can choose from Turkey Mole', Steak, Chicken, Bean & Rice and/or a mixed case).   Entrants must live in United States and be over 18 years of age.   You only need to enter once to be eligible to win.  Red's All Natural has sole discretion over prizes and winners.   InspiredEats will choose the winner on September 30th.  For any questions, please email red@redsallnatural.com. 
Simply enter your email or register via Facebook and follow the details below to increase your chances of winning. 
Here's a little bit about the team at Red's in case you're curious to learn more…. 
THE IDEA – DECEMBER 2007
Like so many stories, ours begins with an epiphany.
One night, our founder Mike Adair was enjoying his wife Paige's famous Tuesday night burrito recipe. He smiled from ear to ear thinking about how tasty the meal was that he had just enjoyed. Mike began thinking that it was a shame that they could not share the dinner with the world. It was at that moment, while Paige was singing Meat Loaf's "I would do anything for love…," he said "why can't we?" He turned to his right to see their trusty dog, Red, nod in agreement. Red's all Natural was born.
THE EVOLUTION
Paige and Mike met when they were twelve years old on the first day of middle school. He quickly seized the opportunity to ask her out, and sixteen years later, through many on and offs, they were married on August 18, 2007. One week later, they headed off to NH for Mike to attend the Tuck School of Business at Dartmouth and Paige to enroll in nursing school at the Massachusetts College of Pharmacy and Health Sciences. They moved into a beautiful, tiny old trailer with Red and started a new life.
Paige comes from a long line of great cooks, a heritage she has fully embraced. Within a few months of living in NH, Paige became somewhat of a celebrity around the Dartmouth campus because of her Tuesday night burrito recipe. All of their new friends, and even many complete strangers, were trying to get themselves invited over for dinner on Tuesday nights. After all, the burritos are exceptionally tasty, filling and nutritious: the perfect combination! The only problem was that Mike and Paige's trailer was too small; they could only fit two guests at a time. Mike would later solve this dilemma…Mike on the other hand does not come from a family of cooks, in fact just the opposite.
Prior to having his burrito revelation, Mike worked in asset management sales for six years and spent most of his time traveling. After spending weeks on the road, Mike would return home, feeling tired and hungry, and open his freezer in search of a quick, tasty, filling and nutritious meal, only to be disappointed. It wasn't until after their wedding that Paige's burrito creation met Mike's need for the long-desired, nutritious and quick meal: the Tuesday night burrito recipe was the long-awaited answer!
Note – these guys are wrapped in flour tortillas, so they aren't gluten-free.