For those of us living a gluten-free life, mastering a tasty, fluffy bread can be a bit challenging. Thanks to one of my fave cookbooks, The Gluten Free Almond Flour Cookbook, this delish bread is a great base for sandwiches, hors d'oeuvres or as a simple tasty snack. You can cut this loaf into thin slices, spread on a baking sheet and toast in the oven at 350° F for 5 to 10 minutes. Spread the resulting cracker with hummus, goat cheese, feta, or drizzled with your favorite olive oil.
The possibilities are endless!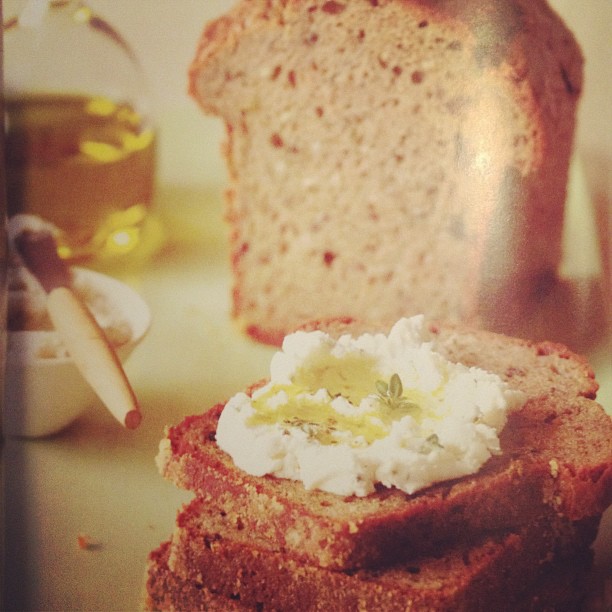 Gluten-free Olive Rosemary Bread
Ingredients
3/4 cup creamy roasted almond butter (room temp)
2 tablespoons olive oil
3 large eggs
1 tablespoon agave nectar
1/4 cup blanched almond flour
1/4 cup arrowroot powder
1/2 teaspoon sea salt
12 teaspoon baking soda
1/4 cup kalamata olives, pitted and finely chopped
1 tablespoon finely chopped fresh rosemary
Instructions
Preheat the oven to 350 F
Grease a 7 x 3 inch loaf pan with grapeseed oil and dust with almond flour
In a large bowl, mix the almond butter and olive oil with a handheld mixer until smooth, then blend in the eggs and agave nectar.
In a medium bowl, combine the almond flour, arrowroot powder, salt and baking soda.
Blend the almond flour mixture into the wet ingredients until thoroughly combined, then fold in the olives and rosemary.
Pour the batter into the loaf pan.
Bake for 45-55 minutes on the bottom rack of the oven, until a knife inserted into the center of the loaf comes out clean.
Let the bread cool in the pan for 1 hour, then serve.
http://inspiredeats.net/gluten-free-olive-rosemary-bread/