20 April, 2012
Chopped green salad with herb dressing
Posted in :
Blog posts
,
Daily Posts
,
Dairy Free
,
Dairy Free Recipes
,
Gluten Free
,
Gluten Free Recipes
,
Grain Free
,
Grain Free Recipes
,
Paleo
,
Paleo Recipes
,
Recipes
,
Vegan
on
by :
Jennifer Mansfield
Courtesy of the White House: Chef Cris Comerford, White House executive chef shares healthy salad recipe
Recipe: Chopped green salad with herb dressing 
Chopped green salad with herb dressing

Ingredients
For salad:
4 cups torn spinach and/or romaine
1 small cucumber, seeded, if desired
3 oz. broccoli florets, blanched and shocked*( 1 cup)
3 oz. tender fresh green beans, blanched and shocked*( 1 1/2 cups)
3/4 cup frozen edamame, thawed
1 1/2 cups halved green grapes
1 recipe Fresh Herb Dressing
Lemon wedges
For dressing:
1 cup orange juice
1/3 cup olive oil
1 Tbsp. cider vinegar
2 Tbsp. snipped fresh Italian parsley, basil, or thyme
2 tsp. yellow mustard
1/8 tsp. ground black pepper
Instructions
For dressing: In a screw-top jar combine orange juice, olive oil, vinegar, herb, mustard and pepper. Cover and shake well. Serve immediately or cover and refrigerate up to 3 days. Stir or shake well before using.
Raspberry vinaigrette: Prepare as above, except substitute raspberry vinegar, and add 1/4 cup mashed fresh raspberries.
For salad: On a large cutting board, cut lettuce and cucumber into bite-size pieces. Add to a large salad bowl. Add broccoli, beans, edamame, and grapes. Toss gently to mix. Drizzle about 1/3 recipe fresh herb dressing over vegetables. Toss gently to coat mixture with dressing.
Serve in small tumblers or cups with lemon wedges, if desired. Pass remaining dressing, if desired.
Teaching Notes: Before chopping lettuce, wash lettuce and remove excess water from leaves by patting dry with paper towels. Salad dressing clings better to dry lettuce.
Notes

Tips

Shocking vegetables: Bring a saucepan half filled with water to a boil. Carefully add vegetables and cook 3 minutes (do not wait for water to return to boil to start timing). Drain in colander and immediately add to a bowl of ice water to halt cooking. Drain well before using.

Before chopping lettuce, wash lettuce and remove excess water from leaves by patting dry with paper towels. Salad dressing clings better to dry lettuce.

http://inspiredeats.net/chopped-green-salad-with-herb-dressing/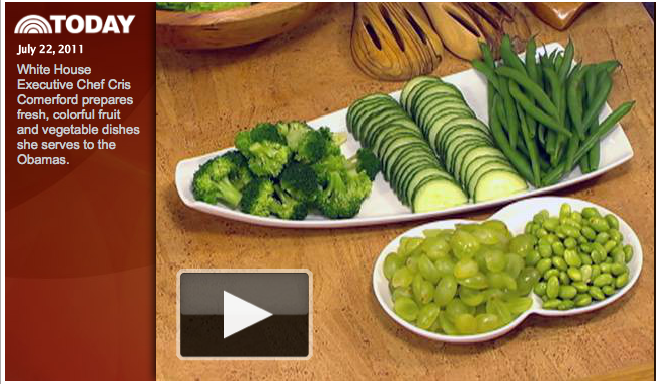 Comments Closed