I completely admire people who can cook; while I LOVE food, I sadly didn't inherit the cooking gene so I default to recipes by those uber-talented folks I've discovered online. So today I share with you a recipe I ran across from a fellow Paleo girl. It looks divine and I'm hoping I can convince my hubby to make it for us this weekend 🙂 Thanks to Girlmeetspaleo for this inspired dish!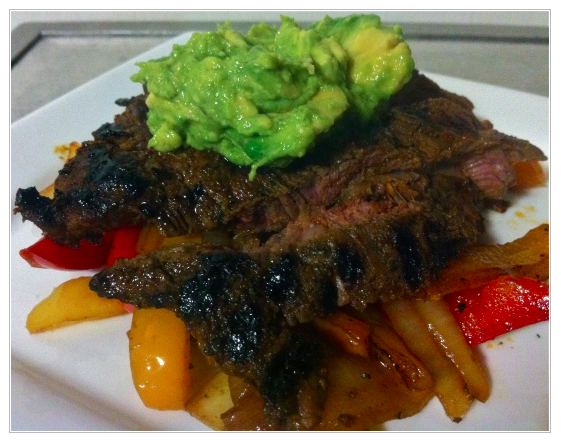 Paleo Carne asada topped with fresh guacamole
Ingredients
3 sliced peppers
1 whole onion
2 TBSP Coconut Oil
Salt & Pepper to taste
1 lb Organic Carne Asada

Guacamole:

1 whole avocado
garlic powder, salt and pepper to taste
TBSP chopped onions
Small diced cherry tomato
Instructions
Saute peppers and onion in a pan on medium heat with coconut oil and some salt and pepper for approximately 2 minutes (or until they start to turn brown on the sides).
While the veggies are sautéing, cook the carne asada on high heat in a cast iron skillet (add seasoning of choice) for approximately 4-5 minutes each side.
Mash up an avocado with the garlic, onion, tomato, and sprinkle with salt & pepper right before topping the meal. Enjoy!
http://inspiredeats.net/paleo-carne-asada/