While working on the recipe section tonight I was compiling some kid-friendly, gluten free lunch ideas and I ran across this one I had saved from the Washington Post some time ago. It's a great option for a cold lunch and the plantains make for a delish and healthy addition with the black beans. Plantains have a heart healthy combo of nutrients, including vitamin B6, vitamin C, potassium and fiber. They also contain resistant starch, which acts as a prebiotic, selectively nourishing the "good gut" bacteria that line the intestinal tract and protect against food borne illness. Yummy and good for us- yay! 🙂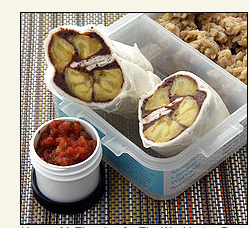 Plantain Wraps With Tangy Black Bean Spread
The Washington Post, September 30, 2009
Course: Main Course
Features: Kid-Friendly, Gluten-Free
Summary:
Fried plantains make a wonderful sandwich or wrap filling when combined with zesty bean spread and spicy salsa. The bean spread also can be used as a dip for baby-cut carrots and tortilla chips.
MAKE AHEAD: The black bean spread and plantains can be made and refrigerated a day in advance; the wraps are best assembled the day they will be eaten. You'll have some black bean spread left over after making these wraps.
4 servings
Gluten-free Plantain Wraps With Tangy Black Bean Spread
Ingredients
15 ounces canned black beans, rinsed and drained
2 tablespoons freshly squeezed lemon juice
1 1/2 tablespoons ketchup
2 teaspoons wheat-free tamari
1/2 teaspoon ground cumin
1/8 teaspoon cayenne pepper, or more to taste
Salt
2 ripe plantains (look for plantains with skins that are dark yellow with black patches)
2 tablespoons canola oil
Freshly ground black pepper
4 10-inch-round gluten-free wraps or tortillas
Homemade or store-bought salsa, for serving
Instructions
To make the bean spread, combine the beans, lemon juice, ketchup, tamari, cumin and cayenne pepper in the bowl of a food processor; puree until smooth, stopping to scrape down the sides as needed. Taste and season with salt; adjust the cayenne as needed. (At this point, the spread can be refrigerated in an airtight container for 1 day.)
Use a sharp knife to peel the plantains. Cut them crosswise in half, then cut each of the four halves lengthwise into quarters (yielding 16 pieces total).
Line a plate with several layers of paper towels.
Heat the oil in a large nonstick or well-seasoned cast-iron skillet over medium heat. Add the plantains, cut sides down, in a single layer; cook for 5 minutes, until the plantains are reddish brown, then turn the pieces over and cook for about 5 minutes. Transfer to the paper-towel-lined plate to drain, then season lightly on both sides with salt and pepper. (At this point, the plantains can be cooled, wrapped and refrigerated for 1 day.)
To assemble, heat a dry skillet over medium-low heat. Heat the wraps one at a time, just enough to make them pliable.
Spread each wrap with black bean spread, then arrange four of the cooked plantain wedges on top. Roll up like a burrito, tucking the ends in as you go. Serve with salsa for dipping.
http://inspiredeats.net/gluten-free-plantain-wraps-with-tangy-black-bean-spread/
Recipe Source:
From Jennifer McCann, author of "Vegan Lunch Box" (Da Capo Lifelong, 2009).