Refreshing Pineapple Sangria. Evoke the Caribbean from your backyard!
I stumbled upon this recipe thanks to Pinterest and Epicurious!  I have to admit that one of my favorite ways to laze away a sunny summer day is poolside, and what better way to enjoy the day then to add a tasty and refreshing cocktail like this one. This Pineapple Sangria uses a touch of rum and coconut water which helps us imagine lounging on a beach in the Caribbean rather than wherever we happen to find ourselves today. 
The recipe calls for at least 4 hours to allow the pineapples to soak up the booze, so make sure you give yourself a bit of time to prep this one. And for those of you Gluten Free folks out there, be sure to check our list of Gluten Free Booze options.
A note from Epicurious about the recipe:
St. John Frizell of Fort Defiance in Red Hook, Brooklyn, created this recipe for a Fourth of July drinks feature—this is the white option in a special red, white, and blue Sangria series. For this Caribbean-inspired pitcher drink, Frizell recommends using good white rum or, even better, a mix of white rum and aged rum. "A funky aged Jamaican rum, like Smith & Cross, will add a profound depth of flavor to the mix," he notes. For the wine, Frizell says to use a young unoaked white, such as a Sauvignon Blanc or a dry Riesling.
Read More http://www.epicurious.com/articlesguides/holidays/july4/sangria-red-white-blue/recipes/food/views/Pineapple-Sangria-51102200#ixzz2045iktw2
Enjoy!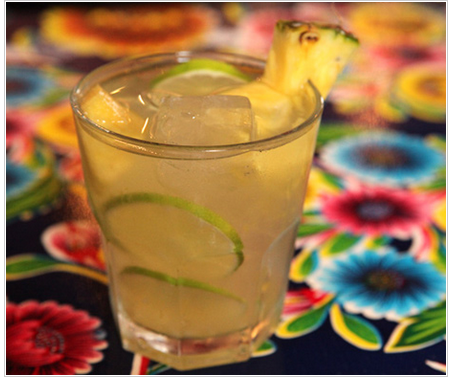 Ingredients
1 small pineapple, peeled and cut into 1-inch chunks
2 cups white wine
2 ounces simple syrup
4 ounces white rum or 2 ounces each of light and aged rum
1 cup coconut water
2 ounces freshly squeezed lime juice
1 lime, thinly sliced
1 cup cold sparkling water
1 to 2 ounces Maraschino liqueur (optional)
Instructions
In a large pitcher, combine 2 cups pineapple, white wine, simple syrup, and rum.
Stir gently then cover and refrigerate for at least 4 hours and up to 24 hours.
When ready to serve, add the coconut water, lime juice, lime slices, and sparkling water.
Add the Maraschino liqueur, if using, then carefully fill the pitcher with ice and stir to combine. Garnish glasses with the remaining pineapple, if desired, or add the fruit to the pitcher.
http://inspiredeats.net/pineapple-sangria/