I remember the first time I ever had mole sauce; I was visiting some friends in San Diego and we went to a highly recommended Mexican restaurant that served some incredibly delicious food – as authentic as we've ever had in Mexico. And when I asked the waiter what he recommended, he didn't hesitate to suggest the Chicken Mole as his favorite. So I took his advice, placed the order, and so began my love affair with Mole sauce.
Over the years, I've tried to replicate it, but never been successful, though I keep at it in an ever-stubborn quest to get that perfectly balanced flavor that I still crave. And since we're managing a couple food allergies around here, it's nice to have a dish that feels more exotic than it is, which is one of the reasons I adore Mole. Not to mention that it's a great way to sneak in some anti-oxidant rich Cocao into your diet!
And while I love mole sauce, I know it's an acquired taste for many people, so when I make it for our son I use a variation that he prefers which leaves out the peppers and pumpkin seeds, and relies on peanut butter to give a toasty flavor to the sauce. I hope this version works well for you too, and would love to hear your thoughts on it below. Remember, this isn't authentic Mole, but it's a great way to get your kids to love it!
Chicken legs with Mole Sauce (Gluten & Dairy free)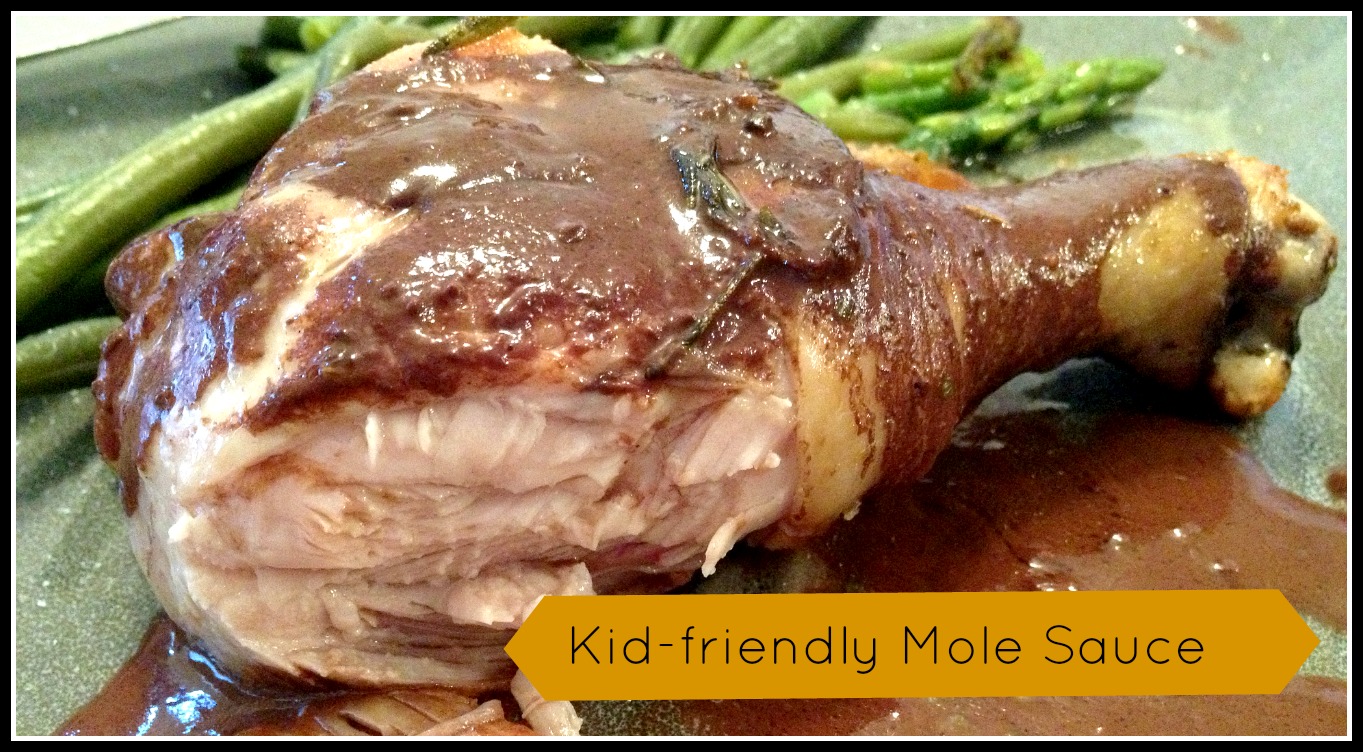 Ingredients
4 Chicken legs
1/2 Cup Olive Oil
1/2 cup fresh rosemary
1 Tbsp Oregano
Salt & Pepper to taste
Mole:
1/2 cup hot water
2 tablespoons olive oil
1 1/2 medium onions, chopped
2 garlic cloves, minced
1 3/4 cups GF chicken stock
3 tablespoons smooth Organic peanut butter
1 tablespoon Coconut Palm sugar
1 teaspoon dried oregano
5.5 ounces dark Cocao, chopped
Kosher salt and freshly ground black pepper
Instructions
Wash chicken legs and set aside.
Preheat skillet over medium high heat until hot.
Add 1/2 cup Olive Oil to skillet and let heat (approx 1 minute)
Add chicken to the oil.
Let simmer for 5 minutes, then flip chicken over.
Cook another 5 minutes, flipping once.
Continue to cook chicken for a total of 25-30 minutes until chicken is thoroughly cooked, flipping occasionally to ensure it's evenly browned.
Sprinkle with fresh rosemary, oregano, salt & pepper to taste.
Flip once more and reduce heat to low.
For the Mole:
In a heavy large saucepan, heat the oil over medium heat.
Add the onions, season with a little salt and saute 3 minutes, or until translucent.
Then add the minced garlic and cook 2 minutes more.
Transfer onion and garlic mixture to blender with all remaining mole ingredients (except for the chocolate and chicken) and blend until very smooth.
Transfer the sauce to a medium saute pan and bring to boil over high heat.
Reduce the heat to medium, cover and simmer 20 minutes.
Stir in the chocolate.
Season the mole with salt and pepper to taste.
Transfer chicken to serving dish and pour mole sauce over each leg, leaving some for a side dish that guests can use as they prefer.
Notes
To add the typical mole heat, add 5 dried pasilla chiles, (or dried anocho chiles) stemmed and seeded to the sauce. If using them, be sure to reconstitute the dried chiles by soaking them in 1 1/2 cups hot water for 15 minutes, then drain and set aside, adding them to the blender with other ingredients.
http://inspiredeats.net/chicken-legs-with-mole-sauce-gluten-dairy-free/