Last night we had some friends over for dinner, and with 3 kids and a few special diets to accomodate, I wanted a meal that was quick and easy, and could keep a vegan and some gluten and dairy free peeps happy.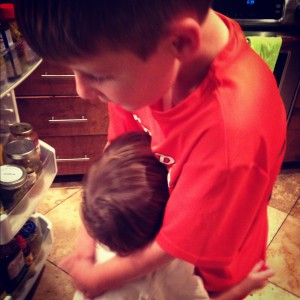 I needed something that wouldn't keep me in the kitchen the whole time cooking since I had invited a friend and her 2 boys over, so I chose this Brazilian Chicken which has a rich, creamy texture in a dairy-free sauce. This recipe allowed me to prep some of the ingredients ahead of time, which left me time to chit chat, and the boys time to bond. Here's a pic of our boys; her little guy just adores my son, and since mine is an only child, he loves the attention 🙂
Since I was starting with a base of gluten and dairy-free, this Brazilian Chicken is a great choice as it's a Paleo meal that uses some simple spices to add an exotic flair, and gets it gravy-like consistency from rich coconut milk. The process is simple, and as my friend said, it "tastes a lot more complicated than it really is". Gotta love an impressive dish that doesn't kill you in the kitchen!
While this is adapted from All Recipes  we've made some adjustments along the way to make it our own and accomodate a nightshade free diet (the original recipe calls for tomatoes and jalapeño peppers).  I'm sure you can do the same by adding in some of what we've omitted  including cayenne pepper, jalapeños and parsley.
Turns out this recipe kept most of the guests happy, with the older boys devouring the chicken, though the littlest guest wasn't having any of it.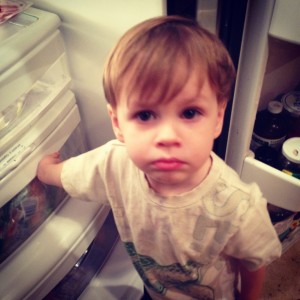 While we tried our best, he wasn't digging the chicken, spinach or roasted carrots but he was happy to chill with his big brother while he ate the goods. Here he is desperately searching for something yummy in the fridge after deciding he wasn't loving my dinner.
Glad I could keep one of the guests' bellies full of some good food!