My husband was looking for a way to add a bit of flavor and heat to our old stand by – green beans. They're a healthy, easy side dish and our 8 year old will eat them without complaining, so we turn to them often, but as with anything you eat often, we grew tired of them. So in a quest to make them exciting again, we tried a few options, and ended up with one of our other favorites – poblanos. If you're not familiar with poblanos, they're low in fat, calories and are naturally cholesterol free. Cooked poblano peppers are low in carbohydrates; one poblano pepper contains 2.7 grams of carbohydrates, which is only 1 percent of the total daily value, and are high in vitamin C, a crucial antioxidant that may protect you against a number of diseases.  
We like to roast the pepper slightly before sautéing it with the beans which gives the dish a slightly smokey flavor. And though poblanos rank low on the Scoville Heat Unit (used to determine the level of heat in peppers)  at 2,500 to 3,000 units as compared to cayenne pepper, for instance, which has a heat unit of 35,000, they will still add a toch of spiciness to the dish, so if your loved ones are a bit shy of heat, you might start off cutting the poblano in half for your first try of this dish. 
Enjoy!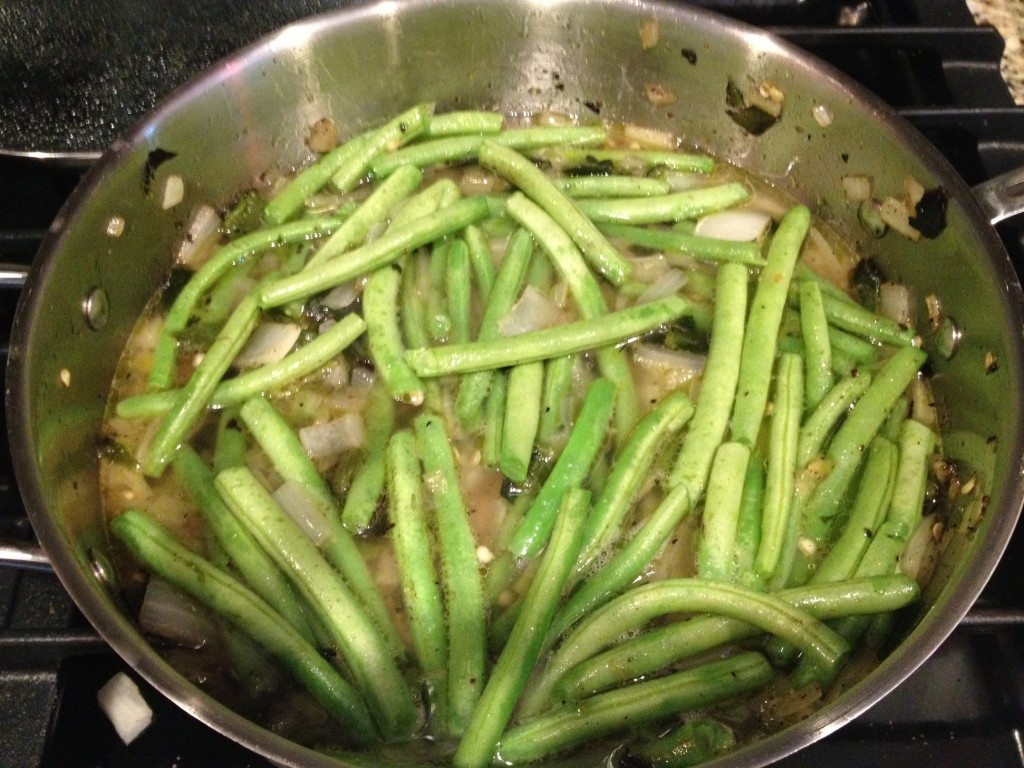 Ingredients
1 1/2 tablespoons extra-virgin olive oil
1 medium onions, thinly sliced
1 garlic clove, thinly sliced
1 1/2 pounds fresh green beans, trimmed
1 poblano chile (roasted), seeds and ribs removed, cut into 1/4-inch strips
1/2 cup water
1/2 tablespoon coarse salt
1 teaspoon freshly ground pepper
Instructions
Roast poblano pepper for 10 minutes on grill over low to medium heat.
Heat oil in a large saute pan over medium-high heat.
Add onions and cook, stirring frequently, for 5 minutes.
Reduce heat to medium and cook, stirring occasionally, until beginning to caramelize, about 10 minutes.
Add garlic and cook until soft, about 2 minutes.
Add green beans, chiles, water, salt, and pepper, and bring to a boil.
Cover, reduce heat, and simmer until green beans and chiles are tender and liquid has evaporated, 20 to 25 minutes.
http://inspiredeats.net/sauteed-green-beans/