20 March, 2012
Paleo Bacon, asparagus& egg "soldiers"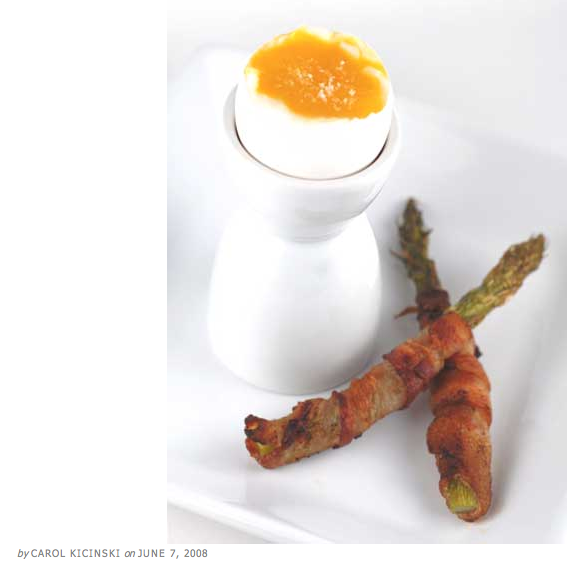 Posted in :
Blog posts
,
Daily Posts
,
Dairy Free
,
Dairy Free Recipes
,
Gluten Free
,
Gluten Free Recipes
,
Grain Free
,
Grain Free Recipes
,
Paleo
,
Paleo Recipes
,
Recipes
on
by :
Jennifer Mansfield
Tags:
gluten free
,
gluten free recipes
,
grain free
,
grain freee recipes
,
Paleo Diet
,
paleo recipes
,
priam
,
Primal Blueprint Diet
Sometimes it's hard to keep things interesting at breakfast when you're on a gluten-free and paleo diet. I've read of some great paleo options that aren't gluten-free so I can't try them, so when I ran across this recipe today I fell in love with it – too bad it's mid afternoon and I'll have to wait till tomorrow morning to try them!
Paleo bacon asparagus egg soldiers
Ingredients
8 large asparagus spears trimmed to about 5 inches long
4 slices bacon
4 soft boiled eggs
Instructions
Preheat oven to 450 degrees.
Cut bacon slices in half and wrap half on the stalk of each asparagus spear working up until you get to the bud of the asparagus.
Place bacon wrapped asparagus spears on a foil lines baking sheet and cook for 15 minutes or until bacon is browned and crispy. Place briefly on a piece of paper towel to soak up the excess grease.
Gluten Free Bacon Asparagus Egg Soldiers are served with soft boiled eggs.
Bon Apetit!
http://inspiredeats.net/paleo-bacon-asparagus-egg-soldiers/
Comments Closed