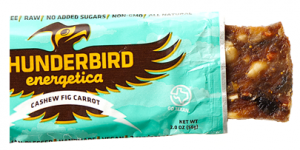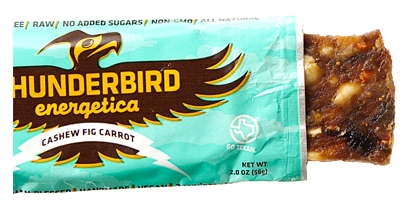 Why we love Thunderbird – well, first, we haven't tasted one we didn't love! Not only are they handy and allergy-free friendly, they've literally saved us from a low-sugar driven faint spell. Well, it wasn't quite that drastic, but they certainly helped stave off a cranky fit due to hunger pangs. Grab any of their 6+ delish bars and rest assured you will love any of their healthy, allergy-free friendly bars wrapped in eco-friendly wrappers.
I find them super handy to keep in my bags in case I find myself hungry at a sporting event, conference, travels, etc. and that inconvenient hunger pang hits when there are little (if any) allergy-free options around. My fave is the cashew fig because it's not too sweet, and with the dates as a base, its moist, soft and totally satisfies! But with flavors ranging from Cashew Fig Carrot, Sweet Lemon Rain Dance, Cocao Hemp Walnut to name a few, these bars are sure to please every palette.
Good food, that is good for you and our pretty little planet. How can you go wrong?
In their words: Thunderbird Energetica specializes in creating epic tasting whole food energy bars. Containing uniquely pure and highly powerful ingredients, Thunderbird bars provide consumers with conveniently packaged, nutrient dense, plant-based goodness. Each bar is meticulously handmade using the finest and freshest available whole foods that Mother Earth has to offer.
Thunderbird Bars are 100% soy free, dairy free, gluten free, contain no added sugar energy  and give you the same clean burning fuel humans have enjoyed over the last 10,000 years.
Check out their site and buy some of these amazing bars today!