Thanks to Marksdailyapple, and in honor of my home state, I'm posting this recipe I ran across as the timing is just right before Spring sets in and we no longer feel the need for a bowl of warm goodness. So here's a copy of his notes followed by the recipe. Enjoy!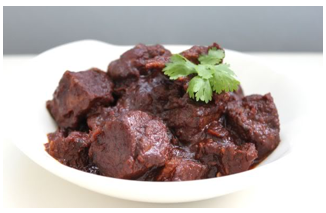 Texas chili doesn't let anything get in the way of and distract from the two main ingredients, chunks of beef and chili powder. Hearty, heavily seasoned and ranging from a bit of heat to fiery-hot, this is the type of chili that's so thick you almost need a fork to eat it. Outsiders say it resembles stew more than chili, but it's doubtful that this squabble over terminology has ever stopped someone from finishing a bowl. Texas chili is simply too good to pass up.
Using a brand of chili powder you like makes a difference – the better the chili powder, the better the chili. In Texas chili, it's the main seasoning and gives the dish its nickname, "Bowl of Red." If you're feeling ambitious, you can make your own chili powder by toasting dried chiles for a few minutes in a pan on the stove then grinding them into powder (a coffee grinder works well for this.) Buy a variety of chiles like New Mexico, guajillo, pasilla, ancho and arbol and then combine the powder of each until the flavor and heat is to your liking. Most types of chili powder also have a bit of cumin, paprika, dried garlic and dried oregano thrown in, and even more of each is added to Texas chili to give the dish it's intense flavor.
If you've never had Texas chili before, start with the recipe below. You won't be disappointed, although keep in mind it's only one version of this great dish. Some, but not all, Texas chili recipes contain a tomato product. Some use water as liquid, others call for beef broth. A splash of vinegar isn't unheard of and either is masa harina, a type of corn flour that thickens the chili but isn't necessary at all for flavor.
Like many regional specialties, no two recipes for Texas chili are exactly the same and each one claims to be the "real" version. Whatever your opinion is about the exact blend of spices or addition of tomato, one thing is for sure – Texas chili is likely to convince you never to put ground meat (and definitely not beans) in your chili bowl again.
Ingredients

3 pounds chuck, cut into 1-inch cubes
2 tablespoons tallow, lard or olive oil
2 onions, chopped
4 cloves of garlic, minced
1 6-ounce can of tomato paste
3 tablespoons chili powder
1 tablespoon dried oregano
1 teaspoon sweet paprika
1 teaspoon ground cumin
Optional: cayenne pepper to taste and Tabasco sauce, to serve on the side

Instructions

Lightly season beef with salt. Heat animal fat or olive oil in a large pot over high heat. Working in 3 batches, brown beef, about 3 minutes per batch.
Cook 10 minutes, stirring frequently, scraping bottom of pot. Add chili powder, oregano, paprika and cumin (and cayenne, if using).
Add 4 cups of water and bring to a boil.
Transfer beef to a plate.
Turn heat to medium. Brown onions and garlic, about five minutes. Return the beef to the pot and stir in tomato paste.
Reduce heat to medium-low; simmer partially covered, stirring occasionally, until meat is tender, about 2 hours.
Serve immediately and enjoy!

http://inspiredeats.net/primalpaleo-texas-chili/