Yes, it's possible to be gluten-free and paleo and still love your pizza!
Last year I ran across a cauliflower pizza recipe which we tried while my mom in law was in town, and it was a BIG hit! We all loved it, though my only complaint was that it wasn't sturdy enough to pick up and eat since I chose to leave out the cheese from the crust. But we all dug in with forks and knives, and while it wasn't the same as the slices of heaven I used to love in NY, it was still a tasty version of pizza. Yay for options!
So here's the original recipe; you can choose to eliminate the cheese from the crust as we did, but just be warned that it won't be sturdy enough to pick up.
Note that I substituted goat cheese for mozzarella and instead of hawaiian style I added spinach and prosciutto. Delish!
Oh, and for those of you (like my husband) who don't love cauliflower, no worries – the cauliflower flavor is undetectable 🙂
Enjoy!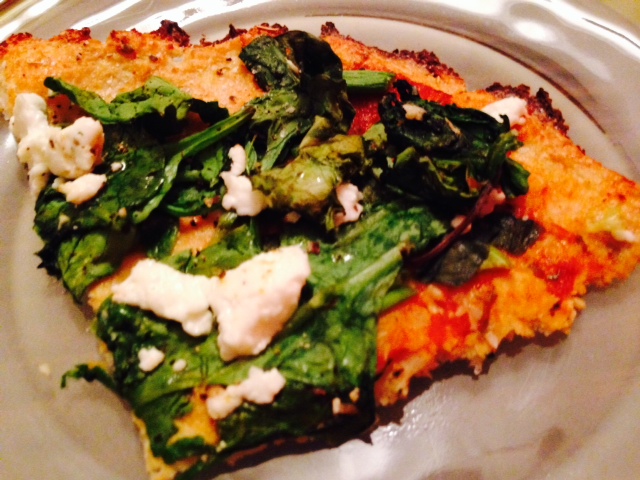 Gluten free, Paleo Cauliflower Crust Pizza
You can steam the florets just until they are tender (not mushy) on the stove and then let them cool before grating them. The texture/consistency won't be the same (It will be more like a puree) but it still works fine once you mix all the ingredients together.
*Other topping ideas: Marinara or pizza sauce with your favorite toppings. Pesto with thin sliced tomato and fresh mozzarella. Alfredo with sausage, mushrooms, Provolone & Asiago cheese. Barbecue sauce with shredded chicken, green onions and smoked gouda. *This pizza is best served on a plate with a fork.
Ingredients
CRUST:
1/2 LARGE head cauliflower (or 2+ cups shredded cauliflower)
1 large egg
1 cup finely shredded mozzarella cheese (or try another kind!)
1 teaspoon dried oregano
1/2 teaspoon dried minced garlic (or fresh garlic)
1/2 teaspoon onion salt
TOPPINGS:
1/2 cup tomato-basil marinara sauce (or pizza sauce)
1/2 cup finely shredded mozzarella cheese
3 slices Canadian bacon, cut into strips
1/2 cup pineapple tidbits
Instructions
Shred the cauliflower into small crumbles. You can use the food processor if you'd like, but you just want crumbles, not puree. You'll need a total of about 2 cups or so of cauliflower crumbles (which is about half a large head of cauliflower. Place the cauliflower crumbles in a large bowl and microwave them (dry) for 8 minutes (see Tips above if you do not have a microwave). Give the cauliflower a chance to cool.
Prepare the crust: Preheat the oven to 450 degrees F. Spray a cookie sheet or pizza pan with nonstick spray (or use a nonstick surface). In a medium bowl, mix the cauliflower crumbles (about 1 1/2 cups since they shrink after cooking) with the remaining crust ingredients. Pat the "crust" into a 9 to 12-inch round on the prepared pan. Spray the crust lightly with nonstick spray and bake for 15 minutes (or until golden). Remove the crust from the oven and turn the heat up to broil.
Prepare the pizza: Spread the sauce on top of the baked crust, leaving a 1/2-inch border around the edge. Sprinkle 1/4 cup cheese on top. Add the bacon and pineapple, spreading it out around the pizza. Sprinkle the remaining cheese on top. Broil the pizza 3 to 4 minutes, or until the toppings are hot and the cheese is melted and bubbly. Cut into 6 slices and serve immediately.
http://inspiredeats.net/gluten-free-paleo-pizza/