No matter the season, I love a bowl of soup for dinner! There's something about the warmth of a soup as it travels down to my belly that makes me happy  🙂 And since it's summer and the heat is kicking here in Austin, we're turning to a soup that is great hold or cold, and satisfies our need for coconut oil and yummy fresh veggies. 
This is a vegan friendly recipe too as it omits butter or cream and relies simply on the squash and sweet potatoes for the thick, creamy consistency.  Below is one of our fave recipes, and you can play with the topping suggestions until you figure out your fave dish. We love lightly toasted walnuts or almonds for a nice crunchy/salty treat. 
How do you prefer yours? 
Paleo squash & sweet potato soup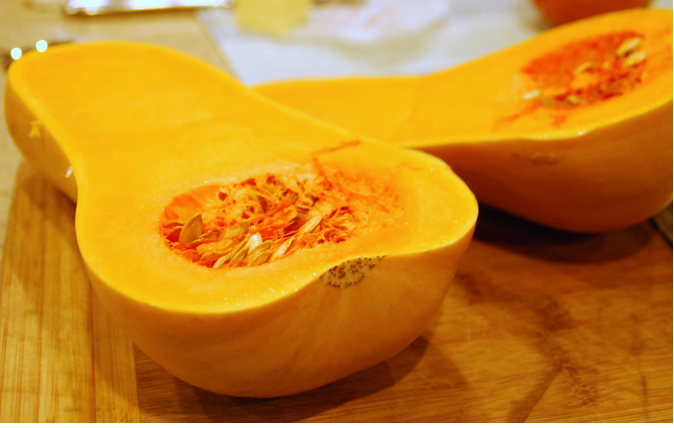 Ingredients
1 butternut squash, skin removed and cubed
2-3 large sweet potatoes/yams, cubed
2 small-medium onions, finely chopped
5 cloves garlic, minced
1-2 sprigs fresh rosemary
1 can coconut milk
4 cups of vegetable stock (homemade or store-bought)
2 TBSP coconut oil
a pinch or two of ground nutmeg and cinnamon
ground pepper and sea salt to taste
a few dashes of hot sauce (optional)
fresh chives, chopped for garnish (optional)
bacon, chopped for garnish (optional)
toasted walnuts or almonds (optional)
Instructions
Begin by taking your cubed butternut squash and sweet potato and roast in the oven at 350 degrees until slightly browned
Remove from oven and toss with 1 TBSP coconut/olive oil and fresh rosemary in a large bowl
Spread cubes on a baking sheet
Meanwhile, sauté the onion and garlic in remaining coconut oil on low-medium heat until softened and translucent
Add butternut squash, sweet potato and sautéed onion mixture to a large pot
Pour in vegetable broth and bring to a boil
Reduce heat and season with ground nutmeg and/or cinnamon
Using an immersion blender, puree the soup until smooth
Next add coconut milk slowly, and continue blending until desired consistency is reached (if too thick add additional broth or water)
Allow time to simmer on low/medium heat for flavours to mingle together – stirring occasionally
Remove from heat and serve in your favorite soup bowls
Finish with a sprinkle os sea salt and ground pepper
Garnish with bacon, chives, walnuts or hot sauce if desired.
Enjoy!
http://inspiredeats.net/paleo-squash-sweet-potato-soup/