Following a Raw Foods, vegan, vegetarian, gluten/dairy free or Paleo/Primal Blueprint diet?
Luckily there are plenty of options for you these days! 
A friend passed this recipe along which she found on WholeFoodsMarket's site; I haven't yet tried it but am excited to give it a shot, so I'm getting it up on the site to have it ready when we test it out this weekend. 
Enjoy! 
Mock Tuna Salad (Paleo, GF, Vegan)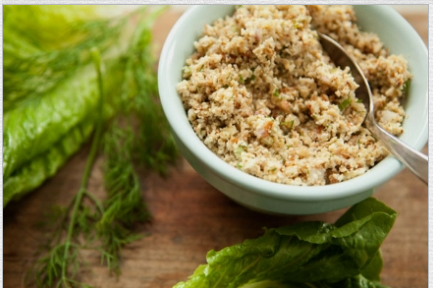 Per serving (about 1/2 cup): 400 calories (290 from fat), 32g total fat, 2.5g saturated fat, 0mg cholesterol, 370mg sodium, 22g total carbohydrate (7g dietary fiber, 8g sugar), 14g protein Ingredients
Ingredients
1 cup sunflower seeds
1 cup raw almonds
1/3 cup finely chopped celery
1/3 cup finely chopped pickles
1/4 cup finely chopped red onion
2 tablespoons chopped fresh dill
2 tablespoons maple syrup or agave nectar
2 tablespoons lemon juice
1 teaspoon kelp granules
1 teaspoon ground black pepper
1/2 teaspoon sea salt
Instructions
Put sunflower seeds and almonds into a large bowl, cover by 2 inches with water, cover and set aside at room temperature to let soak for 10 to 12 hours; drain well.
Pulse sunflower seeds and almonds in a food processor until very finely chopped, scraping down the sides of the bowl as you go. Transfer to a large bowl and stir in celery, pickles, onions, dill, maple syrup, lemon juice, kelp, pepper and salt. Serve immediately, or cover and chill until ready to serve.
Notes
Serve this tasty nut- and seed-based salad on its own, or spread onto wraps or nori with assorted veggies.
http://inspiredeats.net/mock-tuna-salad-paleo-gf-vegan/
Note: photo and recipe originally submitted on Whole Foods's site. Click here for recipe.