It's a hot one in Austin today, and I just wrapped up a pilates class and am getting ready to take my little pup for a walk. I couldn't help but think about how yummy a bowl of fresh, sweet dairy-free ice cream would taste later 🙂
So, since it looks like it's a sweet kinda day, I'm posting a few recipes today that help me get past the sweet tooth urges and keep us happy when those cravings hit.  I'm dairy free for a food allergy, though if you're following a Paleo/Primal diet than you too are avoiding dairy, and if you're like me, you may be missing that occasional bowl of sweet, creamy ice cream or sherbet. So read on for a quick and easy recipe for a delish dairy free version. And if you're lucky enough to live in Austin and have discovered Lick Ice Cream Parlour, than you know they have some amazingly tasty vegan ice creams, and since this one below isn't vegan, I'll be sure to find one that is Vegan to post soon! 
It's amazing to have local options that are paleo, gluten-free, dairy-free and vegan friendly, but if you're not lucky enough to enjoy them locally, be sure to follow us for easy recipes you can make at home to stay on track!
Below is a new favorite of mine, and it's easier than you would think. Expand your comfort zone, explore new taste pleasures and enjoy life everyday!
Dairy-free Chunky Ice Cream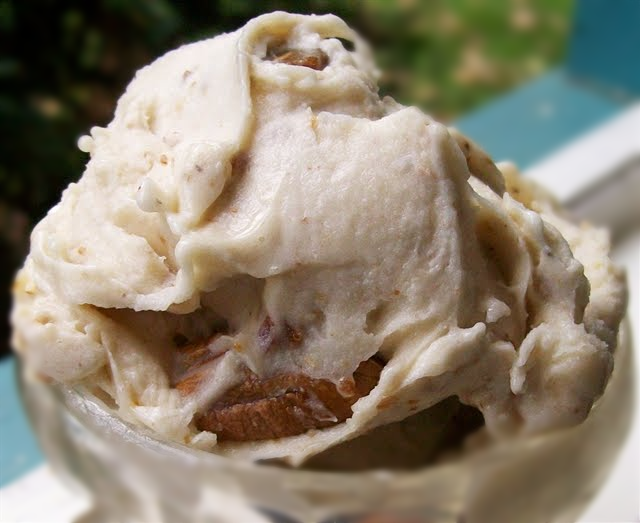 Ingredients
4 egg yolks
1⁄2 cup Honey (optional for Strict Paleo diet)
1 can light Coconut milk (about 13.5 ounce)
1 can regular Coconut milk (about 13.5 ounce)
2 tsp Gluten Free Vanilla extract
1 cup fresh Peaches, chopped (or any fruit of your choice)
Instructions
In a large bowl, whisk yolks and honey together until pale yellow for 1 to 2 minutes
Add light and regular coconut milk and whisk again until well combined.
Transfer mixture to a medium pot and cook over medium heat, stirring constantly, until just thickened and mixture coats the back of a spoon, about 8 to 10 minutes.
Let the mixture boil before removing the pot from the heat.
Stir in the vanilla extract.
Transfer contents of pot to a bowl and chill until cold.
Process mixture in an ice cream maker according to manufacturer's instructions then transfer to a container with a lid and freeze until firm, about 2 hours more.
Note - if you don't have an ice cream maker you can use a blender on low speed, though the consistency may not be as creamy once frozen.
http://inspiredeats.net/dairy-free-chunky-ice-cream-gf-df-paleo/