Chicken Lettuce Wraps with Nut Butter Dipping Sauce
This recipe was posted by our friends over at the Paleo Secret; if you haven't checked them out yet, please head over there and see what they're all about. Their site is run by an incredible couple who truly "gets" the lifestyle, and why so many of us are benefitting from a Paleo/Primal way of eating.  I'll be sharing more from them soon, but for now, I wanted to pass along this treat which we will be testing out this week 🙂 I'll follow up with feedback from our little guy who is a BIG lettuce wrap fan! 
One of the reasons lettuce wraps are so big in our home is due to their "fun factor". The wraps make for a fun way to enjoy a healthy, grain free meal, and you feel so satisfied afterwards that kids and adults alike agree that the bread/carbs aren't missed.  Our 8 year old son often asks for lettuce wraps, and while we typically use ground beef or turkey, this chicken version is a healthy and light adaptation to the standard wraps we've grown used to.  And by swapping coconut aminos for soy sauce you're avoiding the harmful soy (read here for why I discourage soy consumption) and adding the fantastic benefits of coconut oils (read here for more on coconut oil benefits).
Click the image to the right to order our favorite Coconut Aminos from our Amazon store, and thanks for supporting us by doing so!  
So back to the recipe  – here's a copy of the recipe for you to save, and the link to the original version on Paleo Secret is here.  Enjoy!
Chicken Lettuce Wraps (Paleo, GF, DF)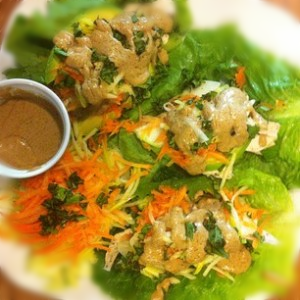 Ingredients
2-3 cooked pasture-raised chicken breasts cut into strips (salt and pepper the breasts and cook them on the stove-top in some butter or oil OR bake them in the oven at 350 with a little oil or water on the bottom of the pan)
1 handful of fresh basil (chopped)
1 handful of fresh mint (chopped)
1-2 avocados (sliced)
romaine lettuce for the wraps
1-2 yellow squash julienned
2-3 carrots julienned
1/2 cup raw sunflower or almond butter
1/2 cup coconut milk
2-3 tbsp coconut aminos
Instructions
Combine nut butter, coconut milk and coconut amines until smooth to make dipping sauce
Julienne carrots and yellow squash (you can use a food processor if you don't have a julienne slicer)
Set aside to be used for putting into wraps and the extra can be used as a side salad
Place chicken strips in wrap
Add avocado slices, a little squash, a little carrot and sprinkle with mint and basil
Top with nut butter sauce or fold wrap and dip into sauce or both!
Enjoy!!
http://inspiredeats.net/chicken-lettuce-wraps-paleo-gf-df/