Over the last four years,  our family has switched from plastic to glass containers, gone from traditional household cleaners to all-natural, plant-based versions and are eating foods we had never heard of before. We kind of feel like a lot of these changes are steps back to the way things used to be; free of processing, harmful additives and "helpful" conveniences that many believe are the root of some more common health conditions, including auto-immune disorders, increased rates in food allergies and asthma, autism, ADHD and more.
And while some things have changed quite a bit for our little family, we still find ourselves craving some of the same old comfort foods. Like meatloaf.
I grew up on meatloaf; we had it once a week, and I was always a big fan.  A perfectly warm, juicy slice of meatloaf with a sweet(ish) glaze for dinner that turned into a cold meatloaf sandwich the next day (if you were lucky enough to have any left over). Fast forward to my grown up, gluten-free, Paleo version and I still love it! My son is a fan too, which is always a good sign since he is sometimes a picky (8 year old) eater.
Since I'm avoiding grains, dairy and eggs, this updated meatloaf calls for an egg replacer and uses apples to help keep the meal moist, and add some healthy carbs to the dish.  I also love to add a touch of Coconut Aminos to give this dish an ever-so-slight but delicious flavor twist.
Alongside our meatloaf, we love a warm Roasted Fig and Pistachio salad and grilled asparagus or lightly steamed carrots with ghee.  Feel free to play around with the spices to suit your tastes, and remember this pairs perfectly with our Paleo BBQ Sauce or Ketchup. Leftovers? Just like meatloaf of my past, this version makes a yummy cold sandwhich on top of gluten free bread, or wrapped in lettuce wrap as I prefer it. 
Easy, healthy and delish. My 3 fave food requirements 🙂
Enjoy!
Paleo, Gluten-free Meatloaf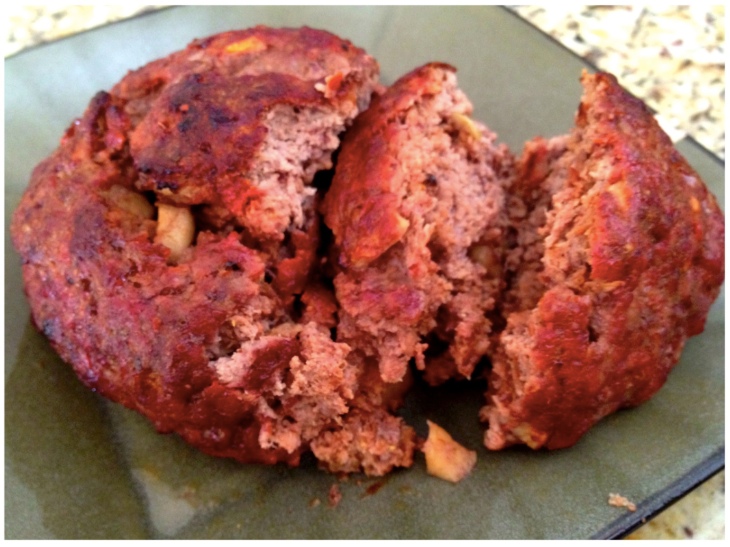 Ingredients
1 lb ground beef or turkey (Organic or grass fed preferred)
1/2 small red apple, diced (skin removed)
1/4 cup chopped onions
1 Tsp chopped garlic
Oregano, salt & pepper to taste
1 large egg or egg replacer
Dash of Coconut Aminos (optional)
Instructions
Mix all ingredients in large bowl except egg, making sure to mix well.
Whisk egg and fold into meat mixture.
Shake about 5-6 shakes of Coconut Aminos into mixture (approx 1 tsp)
Form into a loaf and place in glass or metal loaf pan.
Bake on 350 degrees for 35-40 minutes (times and temp vary by oven).
Remove and let cool for 5 minutes before serving.
Options: top with Paleo BBQ sauce or Ketchup recipes found here
http://inspiredeats.net/paleo-gluten-free-meatloaf/