I just discovered a new vegan foodie blog today and found this delish looking recipe for gluten free, vegan waffles. When you get a chance, hop over to visit An Unrefined Vegan, described as Unprocessed, unbleached and cruelty-free:  low-fat, low-sugar, whole food and plant-based recipes to nurture body, brain and conscience. Her food choices are creative, sound incredible and I love her photos! Great blog to bookmark 🙂
I'm sure it would taste just as good with traditional eggs and buttermilk for the non vegans here, so go ahead and experiment a bit and tell me how it turns out!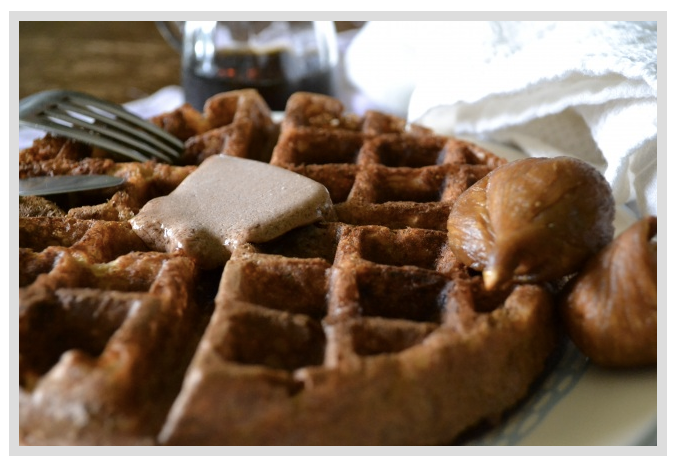 Gluten free, vegan: Banana-Chai Buttermilk Waffles with Cocoa-Coconut Butter
Ingredients
1 cup spelt flour (use gluten-free flour or flour substitute such as almond flour for gluten free version)
1/3 cup oat flour (use certified gluten free oats and process them in a food processor)
1/2 cup almond meal (I used the meal left over from making almond milk, dried and processed in food processor)
1 1/2 tsp. baking powder
1/2 tsp. salt
1/4 tsp. baking soda
1/4 tsp. powdered stevia
1/4 tsp. anise seeds (ground in coffee grinder)
1/4 tsp. powdered cardamom
2 pinches ground black pepper
1/4 tsp. ground cinnamon
1/8 tsp. ground cloves
1/4 tsp ground ginger
2 tbsp. egg replacer + 6 tbsp. water (whisk together until frothy, then let sit for a minute)
1 large, very ripe banana, mashed
1 1/2 cups vegan buttermilk
1 tsp. vanilla extract
Instructions
Combine the flours, almond meal, baking powder, salt, baking soda, stevia and spices in a large bowl.
In a smaller bowl, whisk together the egg replacer, banana, buttermilk and vanilla extract. Add the wet ingredients to the dry ingredients and stir just until the dry ingredients are just moistened. Let the batter sit for about 15 minutes. (Turn the oven on to 200F so you can warm the plates and keep the cooked waffles crispy – and heat up the waffle iron, too.)
Lightly spray waffle iron with cooking oil and ladle on the batter. Cook for about 4-5 minutes and gently remove waffle and place on oven rack to keep warm while you prepare the rest of the waffles.
Top with a dab, slab or slice of Cocoa-Coconut Butter and your other favorite waffle toppings!
http://inspiredeats.net/gluten-free-vegan-banana-chai-buttermilk-waffles-with-cocoa-coconut-butter/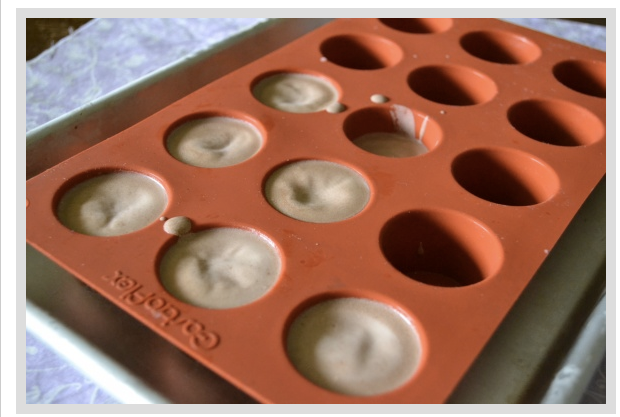 Ingredients
Cocoa-Coconut Butter
1/4 cup + 2 tsp. soy milk
1 tsp. apple cider vinegar
1/8-1/4 tsp. salt
2 1/4 tsp. soy lecithin granules
1/4 tsp. xanthan gum
1/2 tbsp. unsweetened cocoa powder
3 tsp. agave nectar
1/4 tsp. vanilla extract
1/2 cup + 2 tbsp. + 1 tsp. refined coconut oil
1 tbsp. canola or vegetable oil
Instructions
In a small measuring cup, whisk together the soy milk and cocoa powder until thoroughly combined. Whisk in the salt and apple cider vinegar and let sit for 10 minutes.
Melt the coconut oil in a small measuring cup. It's not necessary to completely melt it down – some small solid bits are okay. In the bowl of a food processor, add the melted coconut oil, canola oil, soy milk mixture, soy lecithin granules, xanthan gum, agave nectar and vanilla extract.
Process for 1 minute, then scrap down the sides and bottom – sometimes the soy lecithin granules get stuck near the blade. Process for an additional minute, then carefully pour the mixture into the molds.
Chill in the freezer for at least one hour before removing from molds. Store in the refrigerator or freezer.
http://inspiredeats.net/gluten-free-vegan-banana-chai-buttermilk-waffles-with-cocoa-coconut-butter/