Guest writer, Rebecca Evans shares her newest find; a dairy, nut & soy-free cheese alternative that she loves. 
I have found that the older I get, the less my body is able to digest milk. In fact, it has gotten to the point where although I'm not allergic to dairy products, I treat myself as though I do have an allergy, because I have found that after consuming dairy, I feel sick, sluggish and experience cramping sensations.
Avoiding milk is not the challenge it used to be: today we can choose from soy, rice, almond, hemp and coconut milk to make up for what we were missing. Butter isn't tough to substitute either, thanks to brands like Earth Balance, which offer vegan varieties.
But what to do about cheese? That, my friends, is the million-dollar question.
Although I have tried soy cheese (and been disappointed for the most part), I really do try to shy away from it, simply because as a vegetarian I don't want to consume too many soy products. Variety is the spice of life, and I'm pretty sure variety is also healthy, too! Well, it took a lot of investigating, but I managed to find a brand I love and enjoy, called Daiya!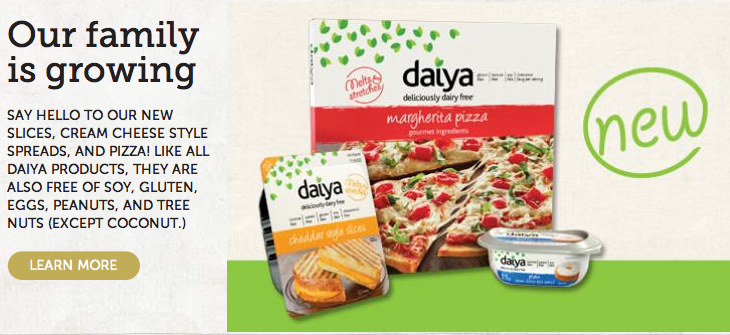 They make fake cheese, fake cream cheese, and pizza that is not only dairy free and soy free, but also gluten, egg, peanut and tree nut free! I didn't think I would ever have the good fortune in my lifetime to stumble upon such a wonderful company that not only understood those with food allergies/sensitivities, but also was able to provide a tasty finished product that I would want to have again and again!
As much as I wish I could swear off even fake cheese (in a similar vein to vegetarians/vegans who have "graduated" and look back on Boca burgers with disgust), I truly appreciate the option to have a tasty spread on my raisin bread toast every morning, or enjoy a pizza that reminds me of what I used to eat. For those with restrictive diets (for whatever reason), it is always nice to know that we have options!
You can check out their site here and learn where to buy their products, as well as more about their other products. Go check them out!
Rebecca Evans is a freelance writer, and knows firsthand what it's like to have a partner with food allergies. You can find her on Facebook , Twitter and her blog, Living the Hi Life