We're big fans of a tender, juicy roast, and love the simplicity of a basic Roast Beef. While there are some more intricate methods which include basting, stews and crock pots, we like to keep ours simple by roasting it with a touch of salt and pepper.
I promise you this is the easiest Roast Beef recipe you will ever make, and you will absolutely love how tender and delicious it is! You'll need to set aside an hour or so for this one, and make sure you have a meat thermometer handy. The key to not over cooking a roast is to use the thermometer and set it for 125 degrees. Thats the magic number which leaves your roast juicy, tender and perfectly delicious.  This version is naturally gluten-free, and suits the Paleo, Primal Blueprint and GAPS diets just fine. In fact, so long as you're a meat eater, you're good with this one!
We like to grill some squash to pair with it, and add some grilled asparagus and toasted pumpkin seeds to a balsamic vinegar and EVOO salad.
So simple. So good.
Amazingly simple Roast Beef with Grilled Squash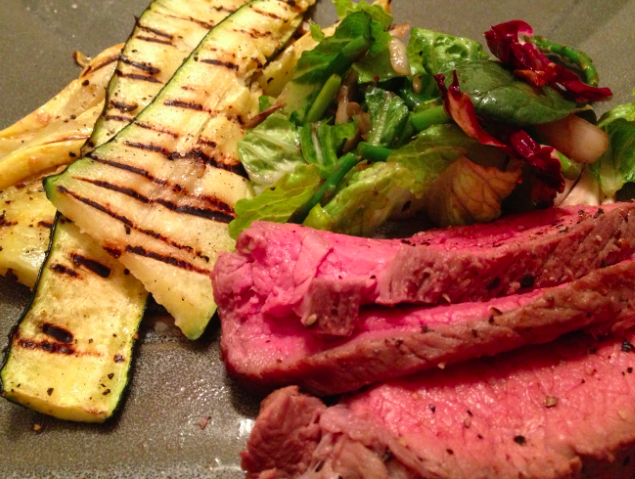 Ingredients
1.5 lbs Top Round Roast
Salt and Pepper to taste
Additional roasting pan ingredients include carrots or potatoes
Instructions
Preheat oven to 300 degrees
Prep the roast and sprinkle generously with salt & pepper
Place roast in roasting pan and surround with potatoes or carrots
Insert meat thermometer and place pan in oven
Baking times will vary so watch the thermometer (generally 20 minutes per lb is good)
Once the thermometer hits 125 degrees remove the roast from the oven and let cool for a few minutes before carving
Serve with your favorite glass of Cab, grilled veggies and a side salad with balsamic vinegar and EVOO for a great pairing!
http://inspiredeats.net/amazingly-simple-roast-beef-with-grilled-squash/