I've heard that when you cut out a food from your diet, the cravings will fade, and your taste buds will change. And while I never really thought that was true (I had tried plenty of fad diets in the past and never noticed my cravings fade) it wasn't until I cut out the common food allergens that I think it truly hit me. Suddenly I no longer craved sweets and carbs, and that decadent salty/sweet combo that I used to adore no longer plagues me daily as it used to. Don't get me wrong, I still love the occasional salty/sweet treat, but my idea of sweet today is far different than it was a few years ago. Gone are the days of being able to stomach a decadent fudge cake. No, today I find 65% dark chocolate a bit on the sweet side. My how things have changed!
So, when I was sent this recipe for gluten-free Persimmon Spiced scones, I had visions of the swedish spiced cake my mom made every Christmas that I adrored, and I started to think this would be right up my not-so-sweet alley. And I was right.
If you're not familiar with Persimmons, they're an excellent source of vitamin C.  In fact,  I've been told by some friends that you can help ward off winter colds with a healthy drink by blending a peeled persimmon and kiwi, which make a juice rich in vitamin C and minerals.
Or, if you prefer to indulge a bit, you can go for this fabulous scone recipe, sent to us by our friends at Bona Dea, Austin-based makers of a gluten-free flour that my son swears makes the best muffins and scones he's had yet.  As I mentioned, this recipe is sweet, but not too sweet, with just the right touch of cinnamon, nutmeg and cloves that pair perfectly with the persimmons. This is a perfect choice for the holidays, and works well as either a scone or muffin. I'll bet if you were to ice it with a not-too-sweet coconut milk glaze it would be perfect for desert.
Check out the recipe from Bona Dea below; be sure to visit their site here if you haven't yet and be sure to grab some of their delicious gluten-free flour in any of the many retailers here they've partnered with, or you can order on their site.

Gluten Free Persimmon Spiced Scones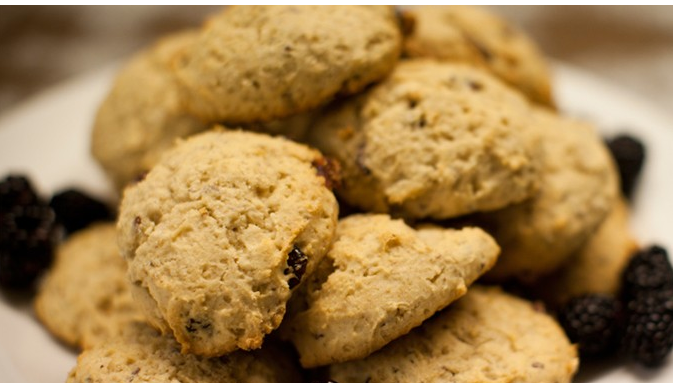 Ingredients
1 package Scrumptious Scone mix
1 ½ tsp cinnamon
1 tsp nutmeg
¼ tsp cloves
5 TBSP cold diced butter (or Ghee)
2 eggs
1/3 c coconut cream
4-5 medium persimmons, chopped
1 TBSP turbinado sugar
Instructions
Preheat over to 375
Prepare baking sheet with cooking spray or parchment paper.
Combine scone mix and spices in a large bowl. Using a pastry cutter, cut in butter until mix resembles fine crumbs.
In a smaller bowl, whisk together eggs and cream.
Slowly add liquid ingredients into dry, stirring just until combined.
Blend in persimmons.
Using a large spoon, drop dough into 12 equal rounds onto cookie sheet (or 36 for mini scones). Sprinkle with sugar.
Bake 14-16 minutes or tops are lightly golden.
Transfer to wire cooling racks.
http://inspiredeats.net/gluten-free-persimmon-spiced-scones/
Ever baked with persimmons before? I'd love to hear some of your favorite Persimmon recipes, so please share them in the comments below!