Don't miss these FREE Kindle ebooks from Amazon TODAY only!
Easy Gluten Free Recipes & Why You Want Them! [Kindle Edition]    FREE today: http://amzn.to/VHOYKI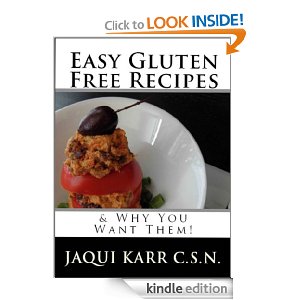 Food has become very complicated and it doesn't need to be. Part of the problem is that when people look at the "mountain of issues" it can feel overwhelming and it's a little easier to just turn it all off and live in peace. But the "ignorance is bliss" theory doesn't work with today's tainted food supply because illness does not equal bliss.
The trick is to start small and keep it simple. No need to "climb the whole mountain" in one day. That's what this book will help you do: simply start.
A handful of favorites from other Jaqui Karr cookbooks plus several new ones released here for the first time. This book gives you super easy gluten free recipes that are engineered to strengthen your body (as ALL Karr recipes do!).As simple as it gets, no major medical discussion here – just a few quick words on the overall picture of gluten as well as other dangerous elements in our food supply that are making everyone so sick. A little food for thought… again, something to "start".This issue of food-related diseases doesn't need to be so very complicated. It's actually quite simple: eat real food again. Real pure powerful food. This book will help you get going… download it now and that will be your first simple step…
Homemade Cosmetics: Over 100 Recipes You Can Make at Home [Kindle Edition]  FREE today: http://amzn.to/RyQKOC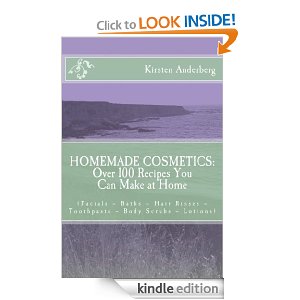 Over 100 recipes for homemade cosmetics using primarily basic kitchen ingredients. Quality control, fresh and organic ingredients, no preservatives or additives, lower costs, better for the environment – these are some of the reasons to make your own cosmetics. Includes recipes for facials, toners, flower waters, lip balms/gloss, pine needle bath, bath salts, bubble baths, shower gel, mouthwash, tooth powders/paste, shampoo, hair rinse, dandruff cure, hair conditioner, sunburn remedies, rash remedies, body powders, body scrubs, athlete's foot treatments, foot baths, foot tonics and lotions, fake "vasoline," glitter body/hair gel, aftershave, cologne, perfume, bug repellents, fake "tigerbalm," natural deodorant, rose petal beads, dream pillows, herbal suppliers, educators, links and resources. Includes special babies', children's and women's herbals section and 31 photos by the author of herbs in nature and herbal processing techniques. Recipes come from the author's 30+ years' experience making her own cosmetics. Special bonus sections about herbs, women's herbals and herbals for babies and children. Includes 31 photos by author of herbs in nature and herb processing procedures. The author has over 30 years experience making her own herbal cosmetics. She has raised her son using almost entirely medicinal herbs for any medical problems he incurred, and had a home birth, using herbs, from midwives during and after pregnancy. Much of her herbal knowledge comes from work with women's groups, wilderness guides, midwives and herbalists, while most of the book explains her first-hand methods for using herbs.