It's one of the first chilly spells in Austin for the year, and we're enjoying some college football (Go Horns and Gators!) and prepping our burgers. While our version today is made with ground turkey, we're following this recipe for quick and delish bison burgers. You can view the recipe we're following today, and a full Paleo meal plan on Bodybuilder's site here. I hope to have meal plans on here for y'all one day, but for now, I'm sharing other's Paleo plans that will help keep you on a healthy diet track.
Remember  – the path to better health starts with food, and the Paleo diet is one of the best ways to get there. It's a simple, straightforward diet and I've written about it quite a bit. You can search Paleo on the top right of the site and find recipes and posts galore, or you can check out this post for Paleo approved foods, Paleo restricted foods  and check out this site for some Paleo Meal Plans.
Here's the recipe we're making and more helpful Paleo tips below.  The Paleo diet is a much researched and written about way of life; my best advice to you is to treat it like a launching pad for better health. Find your balance once you heal and you'll discover the Paleo plan that's right for you. For  now, I'm going to enjoy some tasty burgers, a  salad and some grilled asparagus. Yum!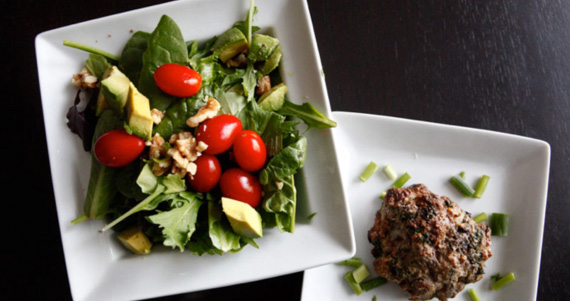 Ingredients
1 lb Organic Ground Bison
1 Shallot
2 Jalapeno Peppers
1 Egg
3 Garlic Cloves
Sea Salt and Pepper to taste
Instructions
Turn oven to broil. Arrange rack so baking pan is close to heat.
Cover baking pan with aluminum foil and set aside.
Combine all ingredients and form into patties.
Place patties on the center of the baking pan and broil for 6-8 minutes. Flip and broil for another 6-8 minutes.
When both sides are golden brown, remove from oven.
Notes
Sharing from http://www.bodybuilding.com/fun/paleo-perfection-6-meals-to-kickstart-your-caveman-lifestyle.html?mcid=NL-NEWS05100712&rmid=NL_oct_100712&rrid=13141647
http://inspiredeats.net/bison-burgers-and-paleo-meal-plans/