Gone are the days of the bland Brussel Sprouts from our Grandma's dinner tables; these sprouts are delicious and add a sweet and salty flair to the sprouts of the past. In fact, with a hint of maple syrup and a touch of pecans, these little guys are sure to please dinner guests of all ages, and are a sure-fire way to get your kiddos to eat their veggies.
I love the salty sweet combo, and it seems to be trait my son inherited as well, so I'm always looking for a way to jazz up our veggies and make sure to keep side dishes interesting. It's so easy to get stuck in a salad and spinach rut, so to avoid the ho-hums of side dishes, I like to whip up quick and easy sides that pair well with meat and fish. And these brussel sprouts don't disappoint. Inspired by a post we found at Seasonal and Savory, these guys are hands down, our fave version of sprouts to date. Enjoy!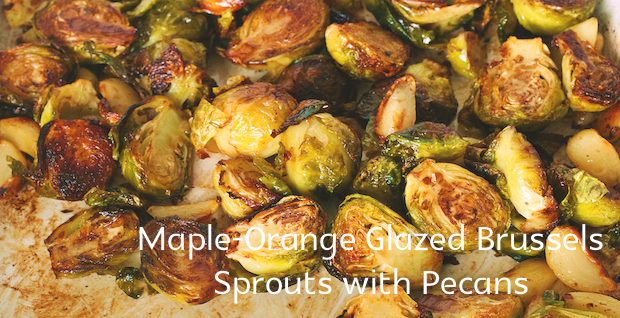 Ingredients
3 cups sprouts, cut into quarters or halves
1 tablespoon olive or coconut oil
1/2 cup pecan halves
2 tablespoons maple syrup
1/2 teaspoon fresh orange zest
sea salt and cracked black pepper, to taste
Instructions
In a large skillet or wok, toss the sprouts with olive or coconut oil and cook over medium-high heat until they turn bright green (about 4 -5 mins)–the key to good-tasting sprouts is to not overcook them.
Toss in the pecans and let them toast on the side of the pan for minute.
Stir in the maple syrup and orange zest.
Salt and pepper to taste.
Cook, tossing the sprouts, just for another minute or two.
Serve immediately.