There's something about Fall that makes me crave warm, gooey foods; foods that satisfy a sweet tooth, or perhaps a hearty soup or chili.  However, living a mypaleo, allergy-free diet means I have to be a bit creative to enjoy them without guilt! And if you follow my site regularly, you know that I believe whole-heartedly in the power of foods to help us heal.
So, while I'm a bit strict in my approach to a healthful diet, I do encourage you to enjoy a cheat once a week. And by a cheat, I don't mean a gluten-ful slice of cake, or a too-sugary candy; be sure to still focus on healthful foods that satisfy your urge, without setting you back.  Whenever I prepare foods to indulge in, like these amazing little peanut butter, banana and oatmeal cookies (which I discovered from my cousin Rita),  I freeze the majority of them so I can take a couple out to thaw, enjoying them as the urge hits.And if you're saving up for a weekly cheat, I can't think of many cookies I recommend more than these guys!
I love the consistency of the oats combined with banana and PB which makes a thick, rich and chewy cookie. Quick note – these tasty treats contain peanut butter, so if you are avoiding PB you can substitute almond or cashew butter, which will slightly change the flavor of the cookies, but still remains a delish treat!  Remember, living an allergy-free life doesn't mean living without the occasional indulgence, nor does it mean that indlugence can't still be good for us.
With a bit of creativity, you can create healthy, yummy treats that are loved by all – allergies or not!
Rita's Healthy PB, Banana & Oatmeal cookies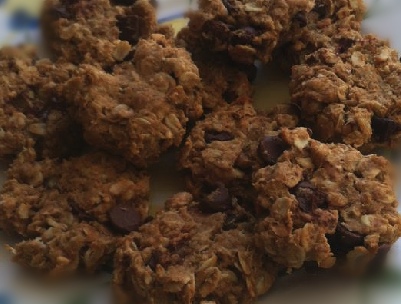 Ingredients
3 ripe bananas, mashed
1 tablespoon GF vanilla
1/2-1 cup natural chunky peanut butter, by preference for peanut buttery taste
3 tablespoons maple syrup or agave
2 cups GF Harvest Gluten Free Organic Rolled Oats
1/2 cup almond flour
1 teaspoon baking powder
1/2 teaspoon salt (note: if you are using salted peanut butter, you may not need any salt, do a taste test with the batter)
½ cup semi-sweet vegan or GF chocolate chips
Instructions
Preheat oven to 350 degrees F
In a large bowl, mix bananas, vanilla, peanut butter and maple syrup or agave into a creamy consistency (best to do with a hand mixer).
In another bowl, combine oats, flour, baking powder and salt
Add the dry ingredients to the wet ingredients and stir until they are well combined, the batter should be slightly sticky.
Fold in the chocolate chips (note the batter will be somewhat runny)
Place heaping tablespoon-sized balls of the batter onto a 'greased' baking sheet (can also place on wax paper) and cook for 15 minutes.
http://inspiredeats.net/ritas-healthy-pb-banana-oatmeal-cookies/