We don't get many cold days in Austin, so it's a bit surprising to have 50 degree weather in early October; not to worry though – we'll be back in the 80s again next week 

So, I'm taking full advantage of this chilly weather and making homemade dairy-free hot coca and this delicious 2 pepper chili which is a fave around here. It's super simple to make, though it takes a bit of prepping, but once done you can head out and let it simmer for an hour and a half before coming back to add the final touches, letting it simmer for another 30 minutes before it's ready.
It's naturally gluten free with the use of gluten free broth, and I choose to omit the more typical cheese and sour cream that is often used as a topping to make sure it's dairy free friendly as well. To be honest, we don't miss the dairy at all, since the chili naturally has such a wonderful flavor, and it's warm, hearty and satisfying.
Since we spent the day outdoors playing baseball with our son, I'm going to enjoy the evening with a movie snuggled with my guys on the couch.  I hope your plans are equally as satisfying, and as always, that you're inspired to find some small ways to make big changes in your diet and health. Enjoy!
Gluten free 2 pepper chili is perfect for Fall's chilly nights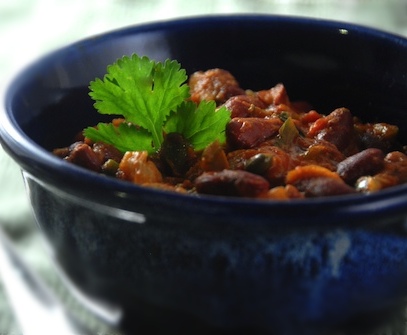 Ingredients
2 tablespoons olive oil
3 1/2 pounds ground sirloin, preferably grass-fed
Salt and freshly ground black pepper
1 large onion (1 1/2 pounds), coarsely chopped
8 large garlic cloves, minced
3 large jalapeño chiles, seeded and minced
2 1/2 tablespoons sweet paprika
1/4 cup tomato paste
Two 28-ounce cans peeled Italian tomatoes, coarsely chopped and juices reserved
3 cups chicken or beef stock or canned low-sodium broth (GF)
Two 19-ounce cans kidney beans, drained and rinsed
2 chipotle chiles in adobo sauce, seeded and minced
1 tablespoon dried oregano
Pinch of cinnamon
Coarsely chopped cilantro, for serving
Instructions
Heat the olive oil in a large pan.
Add the ground beef in large chunks and season with salt and pepper.
Cook over moderately high heat until brown on the bottom, about 4 minutes.
Stir and cook until most of the pink is gone, about 3 minutes; keep the meat in large chunks. Transfer to a plate.
Pour off all but 2 tablespoons of the fat from the pan (if using grass fed meat you won't need ot pour any out).
Add the onion, garlic and jalapeños and cook over moderately low heat, stirring often, until softened, about 6 minutes.
Add the paprika and cook over low heat, stirring often, until fragrant, about 5 minutes.
Add the tomato paste and cook, stirring, until the paste starts to brown, about 5 minutes.
Transfer to a large pot over medium heat.
Stir in the tomatoes and their juices, the chicken stock and the cooked beef and any accumulated juices.
Bring to a simmer over moderately high heat.
Reduce the heat to low and simmer for 1 1/2 hours, stirring occasionally.
Add the kidney beans, chipotles and oregano and simmer for 30 minutes longer.
Season with salt, pepper and a large pinch of cinnamon.
Remove from the heat and let stand for at least 20 minutes.
Reheat before serving.
Serve with a generous sprinkling of cilantro.
http://inspiredeats.net/gluten-free-2-pepper-chili-is-perfect-for-falls-chilly-nights/