Stuck in a Paleo breakfast rut?
If you're looking for a breakfast option that incorporates something other than eggs, and are happy to explore some exciting new options, these Blueberry Sausage Patties are sure to please! If you're following the Paleo diet and/or are in the midst of a Whole30 challenge, these little guys will come in handy and ensure you're staying on track with a hearty breakfast option that is Whole30 and Paleo approved.
You can read the original post here and explore the many other options that the author features. I chose to feature these simply because they're a unique and interesting option for breakfast; a meal which many people complain about not having much variety in when following a grain-free diet.  Note these are super simple to make, and you can use frozen or fresh blueberries.
And in the words of the chef herself, the blueberries add a hint of natural sweetness, plus they are relatively low in sugar and packed with antioxidants.
Good food that's good for us – enjoy!
Blueberry breakfast sausage; Paleo & Gluten free breakfast option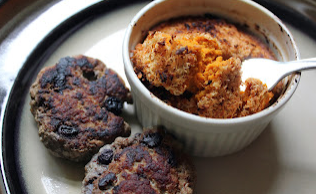 Ingredients
1 lb ground meat of choice (pork, chicken, or turkey)
1/2 cup frozen (no need to thaw) or fresh blueberries, whole or chopped
1 tsp rubbed sage
1/2 tsp Aleppo pepper (or 1/4 tsp crushed red pepper + 1/4 tsp paprika)
1/2 tsp salt
1/4 tsp dried thyme
1/4 tsp ground coriander
1/4 tsp nutmeg
1/4 tsp pepper
Instructions
Instructions
Thoroughly combine all ingredients with your hands.
Shape the meat into a log and place it on a large piece of plastic wrap.
Roll it up in the plastic wrap, tightly twisting both ends.
When ready to serve, slice it into patties (you should get about eight sausage patties)
Cook in a lightly oiled skillet on medium heat, turning once, until both sides are browned.
Reduce heat to low, cover, and cook until the meat is completely cooked throughout.
Serve.
Notes
Make-ahead directions: You can freeze the individual raw patties on a baking sheet, then transfer to a freezer bag. Thaw overnight in the refrigerator and then cook as specified. Or, you can fully cook the patties, freeze them the same way, and just reheat the frozen sausage for approx 10 minutes on medium-high, or microwave for 2-3 mins when you're ready to eat.
http://inspiredeats.net/blueberry-breakfast-sausage-paleo-gluten-free-breakfast-option/