One of our favorite meals is a quick and easy fish dish; it's a favorite of my husband and I, and our son loves it too, so we try to serve a healthy fish dish at least once weekly. This blackened catfish is an easy, quick and healthy dish that doesn't require any prepping ahead of time, and you can swap out catfish for salmon, or any other preferred fish instead. Our son happens to love catfish, salmon, tuna and most white fishes, so we tend to make this with whichever fish is on sale when we're at the store.
I've suggested you can top the fish with a sweet corn salsa, and another option is a fresh mango or similarly sweet salsa. The ingredients aren't as important as the balance of salty fish with sweet topping, so go for the ones that suit your taste buds the best. Enjoy! 
Blackened Catfish with Asparagus (Paleo, DF, GF)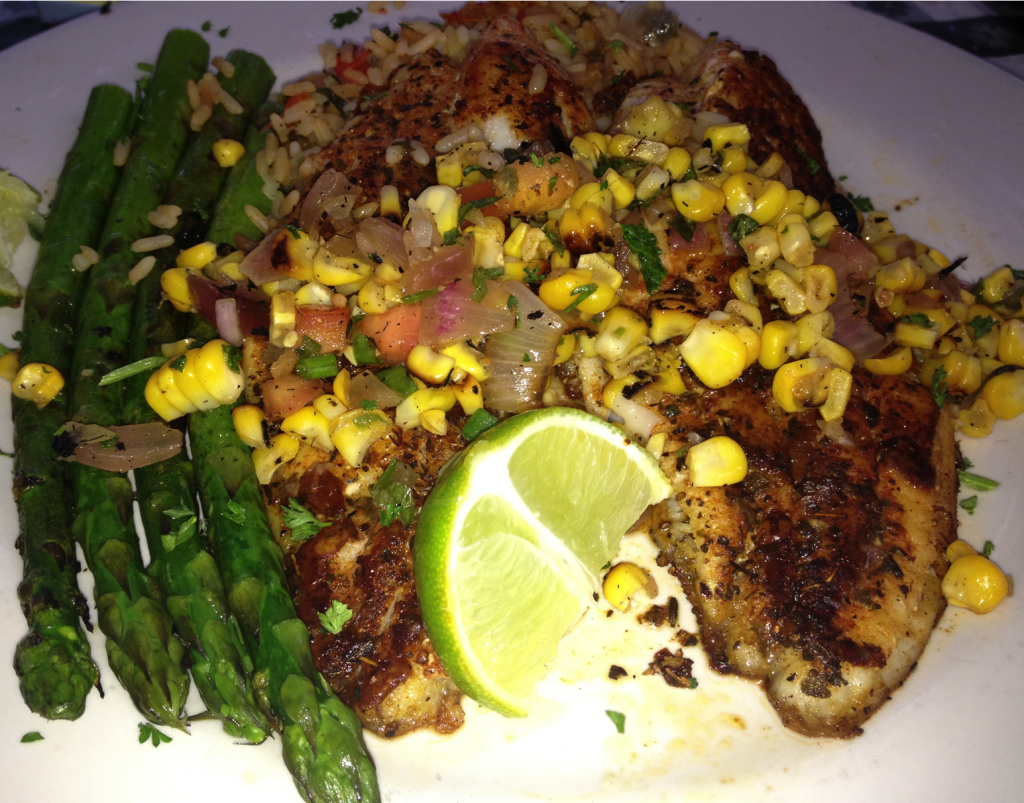 Ingredients
2 Wild Caught Catfish Filets (with skin)
2-3 TBSP Coconut Oil
Cajun-style Seasoning OR
1 Tbsp Paprika
1 Tbsp Cayenne Pepper
1 Tbsp Thyme
1 Tbsp Oregano
1 Tbsp Sea Salt
1 Tbsp Black Pepper
Fresh Asparagus
Olive or Coconut Oil for drizzling on Asparagus
Salt & Pepper to taste
Instructions
Wash asparagus and remove stems.
Line a pan with aluminum foil and layer asparagus on top, in one layer.
Drizzle with coconut or olive oil and generously sprinkle S&P.
You can also squeeze fresh lemon or lime on top of the asparagus if desired.
Place in oven on 300 degrees for 10 minutes.
In the meantime, mix all spices together and spread out on a plate.
Rub the flesh side of the catfish with a little olive oil and press the catfish (flesh side down) onto the spices.
Heat 2-3 Tbsp of Coconut oil in a pan over medium heat.
Once it is hot (or smoking), turn off the burner.
Place the catfish flesh side down in the pan, on one layer, so they both have contact with the pan. Turn the heat back on medium and cook for 2 minutes.
After 2 minutes, turn the heat down to medium-low and flip catfish over.
The spiced, flesh side should be crispy.
Cook at medium-low for another 3-5 minutes (skin should be crispy at this point).
Remove asparagus from oven and cut spears in half.
Serve immediately.
Optional: sweet corn salsa - if desired you can top fish with a sweet corn salsa made of fresh corn and some cilantro.
http://inspiredeats.net/blackened-catfish-with-asparagus-paleo-df-gf/