I have to admit I was a happy girl when I saw the Today Show showcase allergen-free, low glycemic foods on their segment today.  Too often, national TV shows feature allergen-laden foods that many of us can't tolerate, so it's encouraging to see an allergen-aware author have a moment to showcase her healthy recipes on national TV. 
In her cookbook and nutrition guide "Must Have Been Something I Ate," Peggy Kotsopoulos (a registered Holistic Nutritionist) shares mouthwatering recipes that help boost energy and satisfy cravings. Here, she shows how to transform zucchini into noodles, hide quinoa in chocolate chip cookies and sneak pumpkin into chocolate mousse. Peggy says there is a connection between what you eat and how you look. – no kidding! She offers healthy alternatives to pasta, cookies and chocolate cake, and spotlights some lesser-known ingredients that have healthy benefits, such as Savi seeds, kelp and sunflower seeds.
Below are her recipes and you can watch her video clip from the Today Show here. Let's hope they keep up the good work on showcasing healthy and allergen-free friendly foods!
Zucchini linguini with omega-rich pesto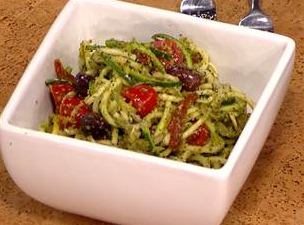 This pasta dish looks like pasta and satisfies your pasta craving, but without all the refined carbs! A kitchen-gadget spirooli slicer transforms your regular summer squash into zucchini noodles!
And since the zucchini is served raw, the vital nutrients are maintained.
Ingredients
2 medium zucchini or yellow summer squash
For the toppings:
1/2 pint cherry or grape tomatoes
1/2 cup black Kalamata olives
1/2 cup sundried tomatoes, chopped
1/4 cup Savi seeds
1 teaspoon kelp granules
Sunflower sprouts
For the pesto:
1/2 cup Savi seeds (plain/sea salt)
2 tablespoons hemp seeds
2 cups fresh basil
3 cloves garlic
1/2 cup extra virgin olive oil
Squeeze 1/4 lemon
1 teaspoon sea salt
Instructions
To prepare the noodles:
Add zucchini to spirooli and turn until noodles are formed.
Add noodles to a bowl, add sunflower sprouts and toss with pesto (recipe below).
Then top with the following: cherry tomatoes, sundried tomatoes, olives, Savi seeds and kelp granules.
To make the pesto:
Add all ingredients to food processor and process until well combined.
Add 2 tablespoons of pesto to 1 cup of zucchini linguini and mix until well combined.
Top with fresh cherry tomatoes, Kalamata olives and sundried tomatoes.
http://inspiredeats.net/low-glycemic-gluten-free-goodies-featured-on-the-today-show/
Gluten Free, Chocolate Chip Quinoa Cookies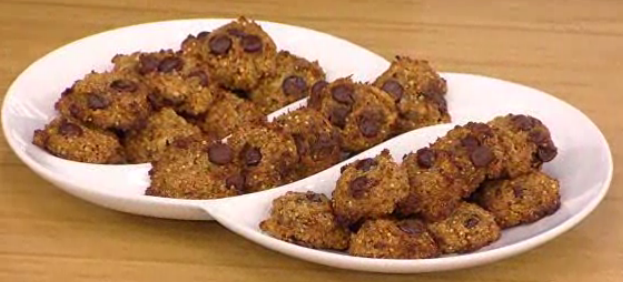 These cookies are SOOO GOOD! The are jam-packed with protein, fiber, stress-busting B-vitamins, energizing goodness and deliciousness! They're also gluten-free and will kick your cravings to the curb.
Ingredients
1 cup cooked quinoa
1 cup uncooked quinoa flakes (or oatmeal flakes)
1 cup unsweetened, shredded coconut
2 tablespoons almond butter
4 large VERY RIPE bananas
1/2 cup coconut sugar
1 teaspoon vanilla
1/2 cup chocolate chips
Pinch sea salt
Instructions
Pre-heat oven to 375 degrees.
In a large mixing bowl, mash bananas in bowl with a fork and add vanilla, almond butter and coconut sugar.
Add quinoa, oatmeal, coconut and pinch of salt. Mix until well combined.
Stir in chocolate chips.
Line baking sheet with parchment paper and drop batter on to cooking sheet.
Bake for 25-30 minutes.
Remove from oven and let cool.
http://inspiredeats.net/low-glycemic-gluten-free-goodies-featured-on-the-today-show/
Allergy Free Chocolate "Mousse"
This mousse is so light, so airy, so decadent, and so HEALTHY! The secret ingredient? Pumpkin! This guilt-free goodie helps to energize, combat stress and lower heart disease. Plus it's super high in fiber, helping to curb cravings and balance blood sugar levels.
Ingredients
2 cups cooked, pureed pumpkin
1/3 cup unsweetened cocoa powder
1/3 cup maple syrup
1/2 cup coconut butter (make sure it's heated to point of being liquid)
1/2 teaspoon cinnamon
1/2 teaspoon vanilla
Instructions
Add all ingredients to a bowl and mix well with a fork.
Refrigerate for an hour before serving.
That's it!
http://inspiredeats.net/low-glycemic-gluten-free-goodies-featured-on-the-today-show/
Just in case the video doesn't load properly, you can click here to watch it!
Visit NBCNews.com for breaking news, world news, and news
about the economy