No doubt there are several versions of butternut squash soup; sweetened with a touch of brown sugar, cinnamon or topped with nuts. I've made it sweet, I've made it savory, I've made it many different ways. However, one of the best ways to prepare is the simplest!
This recipe includes sauteed  mixed with roasted butternut squash to bring out as much flavor possible in this not so flavorful gourd.
Like all members of the gourd family (which includes pumpkin, melon, and cucumber), butternut squash is technically a fruit because it contains seeds. Cut into its pale, yellow-beige hard skin, though, and you'll discover a vibrant flesh that's much denser than that of its relatives.
Rich in phytonutrients and antioxidants — and succulent enough to warrant the term "butternut" — this graceful, hourglass-like gourd is the perfect addition to an autumn meal.
Roasted Butternut Squash Soup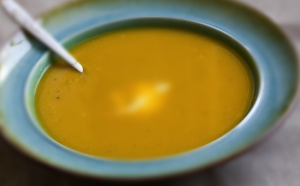 Ingredients
2.5 - 3 lb. Butternut Squash
1 med baking potato
2 cloves garlic
1/2 medium onion
2 tbsp. butter or Ghee
2 - 2.5 cups Low Sodium Chicken Broth (use Gluten Free broth for GF version)
Sea Salt
1/4 c Fat Free Half and Half (OR unsweetened Almond Milk or Soy Milk)
1/2 fresh lemon juice
Instructions
Preheat oven to 425 degrees.
Peel and mince garlic.
Peel and cut onion into large dice.
Cut the butternut squash separating the rounded bottom from the straight cylindrical top.
With a very sharp knife, hold the top and cut the tough skin off to show the orange 'meat' of the squash.
Cut the cylinder in half and then quarters and finally into large chunks.
Cut the bottom round of the squash in half. Discard seeds.
Salt and pepper and drizzle half the butternut squash with olive oil and roast in 425 degree oven for at least 45 minutes.
Peel and large dice potato.
Melt butter in 3 qt saucepan over med-high heat.
Add garlic and onion and saute until onion is transparent.
Add remaining half of butternut squash cubes.
Saute until softened slightly about 10 minutes.
Add potato and saute all together for about 2 minutes.
Add chicken broth, tsp. of sea salt and bring to a boil.
Cover and simmer on low for at least 20 minutes, if not more until all vegetables are tender and almost falling apart on their own.
Remove roasted butternut squash from oven and scoop out with spoon into existing butternut squash mixture.
Using a stick blender, pulse mixture to smooth, velvety consistency.
Add half and half (or to keep dairy-free, add unsweetened Almond Milk or Soy Milk)
Stir and add 1/2 lemon fresh juice.
Simmer together for at least 5 minutes to allow flavors to meld and acid of lemon to allow all flavors to bloom.
Taste and add salt if needed.
http://inspiredeats.net/butternut-squash-soup/