Green, lean and packed with energy!
This is one of my favorite ways to start the day – keeps my mind clear and gives me great motivation and energy!
I have a Jack Lalane juicer, but I've never quite mastered the whole juicing thing. It's messy, time consuming and typically not worth the hassle, but I love starting my day with a healthy juice or smoothie.  So while I wish I could be like so many of you out there who wake up daily and juice your way to a clear day, I just can't seem to be that girl. But I can be the girl who pops into the local Juiceland or Juicebox and let them help me start my day in a healthy way!
For those days when I'm more motivated or have more time, I whip up this quick and simple green juice smoothie and head off for my day with a healthy immune booster.  There are tons of variations to a green juice/smoothie, but this is a favorite of mine. 
Enjoy!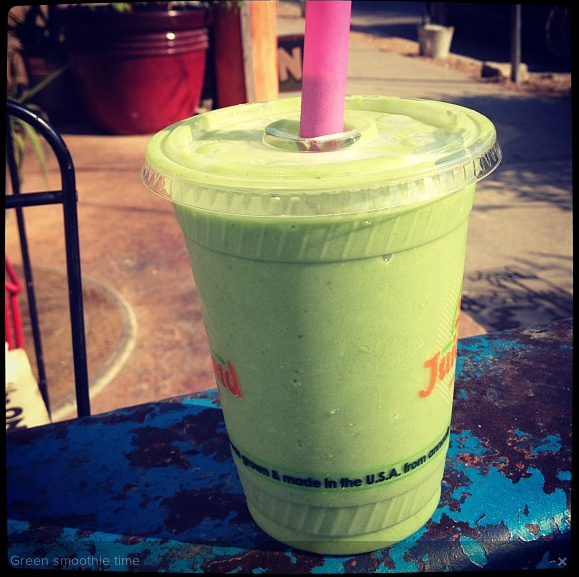 Ingredients
handful of greens: spinach, kale, chard or other
½ cup of your favorite frozen or fresh organic fruits
½ – 1 avocado
1-2 cups of almond or coconut milk, OJ and/or water
1 tablespoon ground flax seed or flax oil (flax oil tends to be less gritty)
1 tablespoon coconut oil (melted)
1 small grated knuckle of ginger, peeled
Instructions
Blend all ingredients together in your favorite mixer and enjoy!
Note: I like to start with the greens and liquid of choice first to make sure they are properly blended before I add all other ingredients.
My other favorite version: use bananas & strawberries as your fruit and substitute ¼ cup of almond butter or Sunbutter in place of the avocado.
http://inspiredeats.net/green-breakfast-smoothie/